Orblue Silicone Stretch Lids – Seal Freshness In A Bowl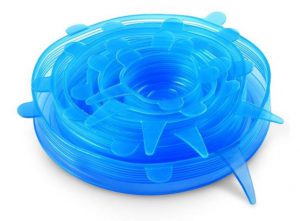 I've gone a little off track today as I happened to come across these handy Orblue Stretchable Silicone Lids by accident that I highly recommend. I was fighting trying to cover some marinated meat in a bowl with glad wrap the other day, and trying to get it tight enough to stop leaking and keep it from drying out while marinading in the fridge, and just thought, "There must be a better way". I then happened to come across an ad for silicone sealing wraps and I had to investigate.
The one that I saw on the advertisement looked great so I did a little research to see what people were saying on the net. I discovered that there are quite a few different brands and watching some you tube videos, I saw that they are not very easy to stretch over bowls as some companies had tried to advertise. After watching a few videos I came to the conclusion that these items were not that great after all. I nearly decided to leave the idea but then I came across the Orblue Silicone Stretch Lids and after reading many reviews I realised that I had found the right silicone wrap product.
You use these lids by stretching over a bowl and it seals tight so the liquids all stay inside. The seal is tight so it keeps the foods fresh, secure and prevents the foods from drying out when left in the fridge. Exactly what I was looking for to solve my problem and as they are lids they are a little different from the silicone wraps that I first found.
Below are some of the Orblue Silicone Stretch Lids features…
Non-toxic bpa-free silicone for food use

Have handy tabs to make it easy to stretch over bowls

Leak proof air tight seal to keep foods fresh

They appear circular but can be stretched to fit different shaped containers

Microwave safe for heating foods quickly and safely

Have an extra long triangle tab for tucking up into the bowl to allow air to escape when microwaving

Not only for covering bowls or plates, but can fit snugly over half cut fruits and vegetables such as watermelon, apples and onions

Comes in 6 pack lid sizes ranging from 2.6" to 8.3" diameter

Lids tops are clear so you can see what's inside the container after stretched over bowls

Can be stacked on top of each other

Easy to clean and dishwasher-safe

Very affordable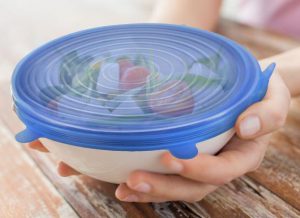 But what about stretching them over the bowls? What makes them different to the others?
The lids look a little like a turtle with four round finger tabs and one longer triangle tab.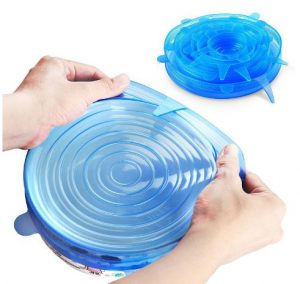 The finger tabs make it very easy to grab and then stretch over the bowl while holding the bowl with your other hand. The 8.3" lid can stretch to 11" so it will fit most large bowls and using the easy to hold tabs it will stretch easily, un-like the plain flat silicone wraps available, that get you fighting as they slip and slide as you try to cover even a small bowl. The flat silicone wraps don't have anything to grab or hold on to and make it awkward to pull, hold and stretch while still trying to fold and seal the wrap over the bowl. At the same time you are battling with trying to keep the bowl steady. The finger tabs on the Orblue Silicone Lids just make it easier.
The quite clever triangle tab can be used when heating in the microwave. Everyone knows that when you heat foods up in the microwave you need to leave an air vent otherwise it could explode while heating. Orblue have solved this problem by tucking the triangle tab back up inside the bowl creating a small air vent so the heat can escape to avoid an accident. Of course you should still check that the air can escape and keep an eye on the heating just in case the air vent does seal up. I think this is a cleverly thought out design.
Cleaning…
The lids are easy to clean, just give them a rinse and pop them into the dishwasher or wash them with your normal dish-washing detergent as you would any plastics ware. They can be used over and over without losing their effectiveness and stack nicely for space saving storage.
What customers are saying…
 The Orblue Silicone Stretch Lids have a 4.3 star rating on Amazon with 1642 customer reviews at the time of writing my article. I have read many of the reviews with many happy satisfied customers reporting that the lids work fantastically for their tasks that they have tried and used them for. Many customers have given a 5 start rating.
Orblue Silicone Stretch Lids have been sold on Amazon since November 2015 and still getting rave reviews so to me this is a sign of a great product. They ship all over the World and I have ordered a set for myself to be delivered to me here in Doha Qatar. I feel very comfortable with recommending Orblue Silicone Stretch Lids and see the image of an Amazon top 500 customer reviewer that tests products out regularly and some images from other happy customers. Right click the images and open in a new tab to read the reviews more clearly.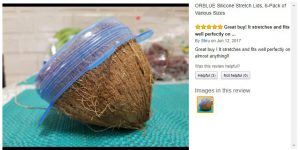 Customer review sealing a coconut with Orblue Silicone Stretch Lid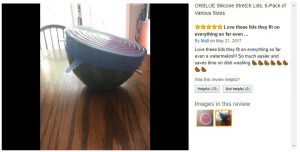 Customer review sealing a watermelon with Orblue Silicone Stretch Lid
I hope my article was something that you were looking for to find answers for your kitchen needs and just think, by using the Orblue Silicone Stretch Lids, not only are you solving a problem in your kitchen but also helping to save the environment by re-using the lids over and over again and not throwing undesirable plastic wraps into our precious earth. Order yours from Amazon here now.
Please feel free to leave a comment below and do the World a favour by sharing my article so more people can do the right thing and add the re-useable Orblue Silicone Stretch Lids to their kitchens.
Thanks for dropping by…John