Ostrich is the largest of the flightless birds in the world. Even though they can't fly, they is the fastest two legged animal in the world running as fast as 70km/hour. The Ostrich is classified in the group of Ratite bird with two main species being the Somali Ostrich and Common Ostrich.
The healthy benefits of tasty Ostrich meat have been enjoyed by many people over history and becoming a popular favourite of chef's around the world. With it's great taste and nutrition, combining it with quality ingredients, Ostrich meat brings versatility to cooking. Ostrich meat has an amazing fresh meat taste without the gamey after-taste.
Because of its development of large legs, most of its meat comes from its thigh and hindquarter. Just like other livestock such as beef cattle, the prime cuts can be used for suitable steaks and fillets with the lesser quality cuts used for mincing or grinding to produce hamburger patties, sausages or mince dishes.
Ostrich meat is a dark red because it contains myoglobin, a protein that turns red once exposed to oxygen. Even though the meat is red the USDA classifies ostrich meat as technically poultry. The meat looks and tastes almost exactly like beef and can be a perfect replacement for any red meat recipe. Just use the same amount required and you will end up with a tasty delicious meal.
---
---
Ostrich Meat Nutritional Features…
Protein
Vitamin B6
Vitamin B12
Iron
Riboflavin
Naicin
Zinc
Selenium
and more
---
Benefits of Ostrich Meat…
Ostrich Meat is low in Cholesterol…
Being very lean, Ostrich meat is low in cholesterol. The cholesterol level in ostrich meat is around 0.063 gram per 100 grams of meat.
Rich in Protein…
High in protein, Ostrich meat is great for building muscle. It consists of 20.6 percent of protein per 100 grams of meat. Protein keeps the muscles growing healthy and strong.
High in Iron…
An important mineral required for our body to stay healthy and fight illness, is iron. Ostrich meat includes and abundance of iron, approximately 3.1 milligrams per 100 rams of Ostrich meat. A power packed amount.
Low in Fat…
Because of its leanness, Ostrich meat is very low in fat. On most Ostrich meat Nutritional Panels you will find less than 12 percent of fat per 100 grams. This is great for the weight conscious person.
Low in Calories…
Ostrich meat has fewer calories than chicken or turkey.
These benefits in Ostrich meat are an alternative to beef and other red meat sources. Ostrich has become popular among st people still wanting the taste of a meaty meal while knowing that they are still providing nutritional minerals and vitamins to keep their body healthy.
---
Where can you buy Ostrich?
In the USA …
---
In the UK…
---
Ostrich Recipes…
You can find 5 tasty Ostrich meat recipes at Delishably.com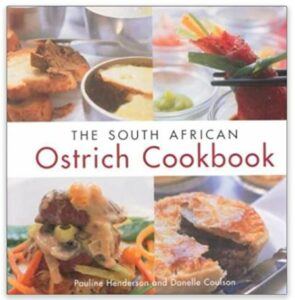 or from the South African Ostrich Cook Book on Amazon
These will surely tantalize your taste buds.
---
Ostrich Meat Cuts Chart…
For finding the primal meat cuts on an Ostrich follow these links below.
---
In Summary…
Ostrich is a healthy meat option if you are in need for a specific diet for consuming lower calorie's and fat content. Ostrich is high in protein and also packed with vitamins and minerals similar to beef. Ostrich meat is what you need for the right the calorie's and fats content and still give that energy boost. It is easy to digest and is great for people that have a delicate stomach but still want to enjoy a good meat intake for their bodies.
I hope you found my article helpful and feel free to leave a comment for more information if need be.
Enjoy your meat and regards
John