Cutting Boards and Chopping Blocks
Another important tool that butchers use for their daily cutting is the humble cutting board or chopping block. These items are essential for making it easier for slicing, dicing, boning and chopping meat with efficiency.  Blocks and boards can vary from wood to hardened plastic and not only are they clean and keep meat safe from contamination but they also help maintain butchers knives from getting blunt easily. Using stainless benches can damage and blunt-en knives quicker while plastic and wood have a little give so the knife edges still maintain their sharpness.
Boards and blocks can make a nice gift and here are a few of my top selections for home and kitchen…add them to a Gourmet Gift Basket just to say it comes from you.
---
---
Lets start small and then work up to the big ones…
Stunning Rectangle Edge Grain Chopping Block

Known For Durability And Longevity

Ideal Wood For Culinary Applications

Sourced From Sustainable, Managed Plantations

Dimensions: 24 x 18 x 1.5 in, 14 lbs – FSC® Certified
The Rectangle Carving Board With Hand Grips By Teakhaus Is Part Of The Series Nicknamed "The Last Cutting Board You'll Ever Need" By Cook's Illustrated Magazine & America's Test Kitchen.This Edge Grain Board Is Known For Its Durability And Longevity. Teaks Resistance To Moisture And Abundant Natural Oils Make It An Ideal Wood For Culinary Applications. This Wood Cutting Board Is Not Only Spacious Enough For Large Family Parties, But The Added Hand Grips Make This Large Carving Board Easy To Move, And Even Easier To Clean. Minimal Care, Simply Wash With Soapy Water And Apply Mineral Oil Occasionally. Teakhaus By Proteak Sources All Of The Teak Wood From Sustainable, Responsibly Managed Plantations.

Amazon customer reviews at time of my article and priced at $83.99 + free shipping. Check Amazon for changes.
---
Hard plastic cutting boards are great as they are easy to keep clean and sanitise. In commercial kitchens different colours are used for different types of foods. 
In butcher shops we mainly use white as they are attractive for red meats and we place them on stainless benches. We then remove the boards and scrub them vigorously with bio-degradable cleaning detergent only suitable for food preparation areas.
Commercial Grade Plastic Cutting Board Set, NSF Certified and FDA Approved

Superior High Density Polypropylene vs Standard Poly (Polyethylene) Boards

HACCP Color Coded to Prevent Cross Contamination: White, Red, Green, Blue, Yellow, Brown

Restaurant Dishwasher Safe – High Heat Ready and Warp Resistant

Set of 6 – Extra Large 24″ x 18″ x 1/2″ Poly Cutting Boards
Our professional grade poly cutting boards are engineered for food service professionals for frequent and repetitive use. This complete set is NSF certified and FDA approved and fulfills requirements for cross contamination by health inspectors and health inspection requirements for food service. 
Made using a multi-process injection moulded manufacturing process, our HDPP (high density polypropylene) boards have superior wear and heat tolerance to PE (polyethylene) cutting boards. Designed by chefs, the surface is lightly textured to provide a slight grip to help prevent slipping and to assist with prep. Corners and edges are rounded so the board may be picked up off the table without requiring to the slide off the station. Each cutting board is NSF certified and bears the NSF stamp and logo. HDPP is also FDA approved for food contact. 
Recommended Colour Usage Chart
White – All Purpose
Red – Raw Red Meat
Yellow – Raw Poultry
Green – Salad and Fruit
Brown – Cooked Meats
Blue – Seafood
Amazon customer reviews at time of my article and priced at $104.95 + free shipping. Check Amazon for changes.
---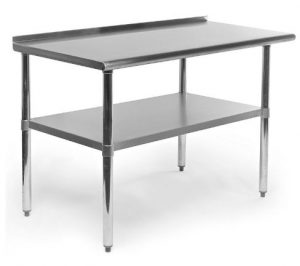 This bench is a perfect for the boards above. As the bench has a splash back it is perfect for making sausages and other wet meat items. Easy to work on and easy to clean. 
These are the same types of benches we use in butcher shops with removable cutting boards. Hygiene is paramount in the meat industry.
Great price at $128.20 + free shipping.
---
This is a table that can be a focal point in the kitchen. Beautifully designed and a customer favourite. 
1-1/2″ thick hard rock maple top

Finished with penetrating oil

Adjustable bullet feet

Under shelf adjustable to desired height

Shipped knocked down, easy to assemble
John Boos maple top work tables come with a thick, sturdy hard rock maple top that is both good looking and durable. The under shelf is made of 18 gauge galvanised steel and the base's bracing composed of 16 gauge galvanised steel so that these work tables are as sturdy as they are stylish. These tables come with adjustable bullet feet for use on uneven surfaces and are perfect for use in commercial, institutional – and even residential – kitchens. The maple top is finished with penetrating oil for hardness and to help with water resistance and spill cleanup. The lower shelf sits 12" above the floor. This table is built to comply with the National Sanitation Foundation NSF/ANSI Stand 2 for food equipment. It ships knocked down, but is easy to assemble. Tools for assembly are sold separately.

Amazon customer reviews at time of my article and priced at $415.20 + free shipping. Check Amazon for changes.
---
A piece of art to add into your kitchen. The real deal for a gourmet kitchen. I think this has to be a joint decision maker. It is a great investment for the real serious meat connoisseur. John Boos have many selection choices that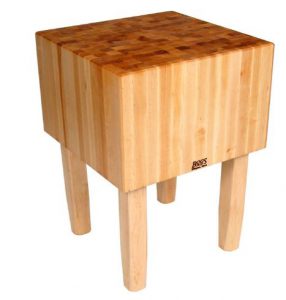 will fit any kitchen. 
Prices and sizes range from $679 to $3879.

11 different variety range 

Strong wooden legs

Natural finish

Professional/Gourmet Style

Hard Rock Maple

Beeswax finish on cutting surface only

Non-toxic varnique finish on sides and legs

16 inch thick block

Made in the USA
One year warranty against defects in workmanship and material. Very thick Butcher Blocks are used to tenderise meat and their weight provides extra stabilisation. A great addition to the home kitchen or enclosed outdoor area.

Amazon customer reviews at time of my article and priced at $999.00 + free shipping. Check Amazon for changes.
---
Here's a selection of cutting boards that can be used as serving boards as well as useful tools for the kitchen or outdoors…Prices from $20 to $80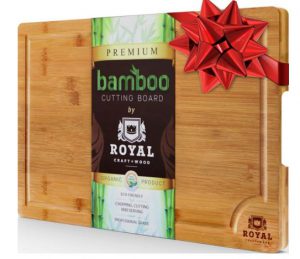 ---
---
---
---

---
There is quite a selection of cutting boards and blocks for all kinds of people that I have put together. No matter what style or for use you may have in mind for a cutting board but I am sure these will make great additions to the kitchen and very useful gifts. 
If you are unable to purchase through Amazon you will find similar on eBay here by searching through the top bar.
For more of my gift idea items see my categories on my MENU PAGE. Happy gift buying…John