What Butchery Machinery Do I Need?
Sausage Fillers, Mincers/Grinders, Hamburger Press, Meat Band Saw and all the bits and bobs…
When you want to do your own butchering at home there are some key machinery you should get. Sausage Filler, Mincer, Meat Saw, Hamburger Press and all the accessories that come along with these great machines. Of course you need good knives, strings and sharpening tools and you can find my recommendation HERE on another page. As you wind your way through home meat preparation you can find other great kits HERE to keep your experimentation going with Brining, Dry Ageing and even make your own Jerky. Great gifting ideas too.
On this page, I am dedicating to butchering machines that will make your meat prep venture easy and smooth with my top quality selection.
Below are some tried and tested machines with customer reviews from Amazon and you can find similar on Ebay if you are unable to purchase through Amazon.
---
Sausage Filler or Stuffer (same thing different name)
I have an article HERE on how to make sausages with some simple easy to follow recipes and a recommended heavy duty filler if you want to get really serious. 
I recommend that you don't waste your time with anything smaller than a 10 lb capacity sausage filler as you will forever be stopping undoing and re-setting the machine, filling the sausages and then have to do it all over again. Once you get the hang of it, it will be a lot of time wasting with a small machine. A 15 lb capacity seems the right fit as even if you only make a small batch it will still work out fine. 
This product is a top quality item with great supplier support if needed. Top Choice
Huge drive gear, notched piston rod and all metal gears are built to deliver

Four solid stainless steel bars create sturdy frame

Two speed design: High speed for filling the cylinder, Low speed for stuffing casings

Four stainless steel stuffing tubes (5/8″, 3/4″, 1″, 1 1/2″); Great for making snack sticks

Warranty is extended to the original purchaser only; Warranty card MUST be filled out and returned immediately with a copy of purchase receipt
Experience the ultimate stuffer with LEM Products 1112 10 Pound Dual Gear Stainless Steel Vertical Sausage Stuffer. The huge drive gear, notched piston rod and all metal gears are built to deliver and withstand the pressure needed to stuff even small sausages. Four solid stainless steel bars create a sturdy frame that won't bend or bow under pressure. Two speed design: High speed raises the piston quickly for filling the cylinder while Low speed is for stuffing casings. Air release valve in piston ensures even pressure and better results. Heavy-duty rubber gasket seals the cylinder to prevent leaks. Stainless cylinder is removable for easy filling and cleaning. Mounting holes in base. Includes four stainless steel stuffing tubes (5/8″, 3/4″, 1″ and 1 1/2″). that make food preparation easy and fun. We will support our customers with end-to-end service and guaranteed satisfaction. We believe home processing to be an essential part of the outdoor experience and will continue to promote the responsible use of our quality machine. Great gift and a great way for the whole family to enjoy a memorable experience.
Amazon customer reviews at time of my article and priced at $264.30 + free shipping. Check Amazon for changes.
If you want to go motorised LEM Products have a 30 lb  Sausage Filler as well. It's a jump up in price but when you get serious, you get serious :-)))
There are cheaper and smaller versions and search through Amazon to find what's in your price range, but quality and great reviews normally mean less problems and hassles.
---
Seasonings and Casings…
You're going to need some seasoning and casing to make your home made sausage and I've listed a few choices that you can try out from Amazon. 
AC Legg Sausage Seasoning have a great very affordable range and here are just a few… 
One 10 oz. Bag of AC Leggs Old Plantation Maple Flavored Breakfast Sausage Seasoning Blend #8 Seasons 25 pounds of meat.
Mix bag with 25-lbs. of meat. You can use 25 lbs. of lean pork (boneless pork shoulder butts will work if you can't purchase 80/20 pork trim from a butcher shop). Or you can use 22 lbs. of lean pork and 3 lbs. of lean beef. Empty entire bag of seasoning into the 25 lbs. of meat and mix thoroughly (it works best if you cut the meat into small chunks first). Then stuff the sausage into natural hog casings for links. Or you can package the sausage in 1 lb. bulk freezer bags.
DeWied Salted Home Pack Size™ brand Sheep casings are vacuum packed in re-sealable zip-lock pouches – Instructions and recipes on each package
Stuffs 15 lbs. to 30 lbs. of meat – DeWied Natural Sheep Casings are edible.
---
Sausage Casings…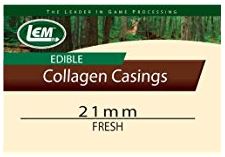 These come in two main forms…Collagen Dry casings or Wet Pack Casings as we butchers call them. They both have there good points and bad points and for the home sausage maker I recommend the Collagen Dry style casings as they are easier to handle without to much fuss. 
For my detailed explanation of how to use these casings correctly click over to my Sausages at Home page and a little down the page you will find direction of how butchers use them.
I've listed both types so you can try each variety and see which works best for you.
Follow the instructions on how to prepare and use these casing and I am sure you will have success very easily.
---
Mincers or Grinders…
Obviously if you are going to make sausages or burgers at home you need to to use minced or ground meat. The simplest solution is to buy the meat already minced and it is very easy to pre-order from your butcher the amount you'd like but if you want to make the whole production from start I will recommend a couple of good quality machines to make your job easy. Safety is paramount when using machines so make sure you read the instructions carefully and be very mindful letting children use mincers. MAKE IT A NUMBER ONE RULE! 
The three selected have rave reviews on Amazon by customers that love to mince and grind meat on a regular basis. That is a good sign as you want a machine that doesn't struggle under pressure. The first two are small and compact and they come with sausage making parts that you can try out in an all in one package. My third selection is a machine with a bit of power. Still quite well priced but can push through a lot of meat in a quick time. This one is for the whole pig sausage making weekend like my father and all our relatives used to do before we got our own butcher shop all those years ago.
[HEAVY DUTY] : Made of food-grade stainless steel, both housing and blades. Advanced copper motor protection system, improve the grinding in a durable and safe condition.

[MULTIFUNTION]: Versatile and multi-function meat grinder for making stuffing and filling. Meat mincer with 3 different cutting accessories for coarse, medium, fine grinds of meat. Not only can be used for meat, but also fish, pepper, agaric, etc.

[POWERFUL]: 1200W peak output (1.608HP) rated motor, can grind meat quickly. And in case of jamming switch off the appliance by pressing the ON/0/R switch to "R" position. Snake will be rotating in the opposite direction, and the head will get empty.

[ACCESSORIES]: Comes with meat pusher, 3 cutlery grade stainless steel cutting plates,one cutting blade, 1 kubbe attachment and 1 sausage maker tool. Stainless steel housing body to give it a durable and sleek look. Note: This model is for home use only.

[WARRANTY]: 2 Year Product Assurance. If you have any product problem, please feel free to contact our customer service (send an email). We will try our best to solve your problem. Please do not grind hard food such as bones, nuts into the grinder for longer use.
Versatile & Multi-Function meat grinder can enable you to make more home-cooked meals for burgers, meatloaf or sausage. This meat grinder adopts whole closed type gear drive, with reasonable structure, convenient operation, 
stable running, easy cleaning, etc. This machine is unbelievable value. No wonder it is a best seller.
Amazon customer reviews at time of my article and priced at $74.97 + free shipping. Check Amazon for changes.
---
 

Size #8, 1200 Watts Max Locked Motor Wattage, 110-120 V, 60 Hz, With 2-Speed Motor, 8 Lbs. Main Unit Weight.

Convenient Hideaway Handle, 3 Quad Bevelled Cutting Blades, 3 Tempered Steel Grinding Plates, 3 Sausage Stuffing Tubes

Polished Cast Aluminium Grinding Head, Auger, and Grinding Head Locking Cap. Plastic Food Pusher

This MEAT grinder WILL NOT GRIND BONES. Although you may see customer comments indicating otherwise, results are not consistent. Please DO NOT PURCHASE this grinder to grind bones
STX International Offers a Full Line of Quality Meat Grinders and other Quality Products and Has Sold Over 100,000 Meat Grinders in the last 10 Years. Our offices are located in Lincoln, Nebraska, along with OEM Parts, Product Development and Repair Services. Our Brand is Our Livelihood and Your Satisfaction is Our Promise.
Amazon customer reviews at time of my article and priced at $99.80 + free shipping. Check Amazon for changes.
---
Heavy-duty construction with #12 neck size. Long-lasting metal gears.

Powerful 500W motor grinds up to 5.5-lbs. of meat per minute. It has a slow-turning sausage-stuffing mode, full-power mode and reverse function.

Large meat pan holds meat up to 3 lbs.

Includes 2 stainless steel cutting plates 3/16" & 3/8", a stainless steel stuffing plate and a stainless steel cutting knife.

Comes with a set of 3/8", 3/4" and 1-1/8" stuffing tubes and a meat stomper for accessories storage.

330 lbs per hour
Our brand KITCHENER is well known and trusted by many customers around the world, We are extremely proud to offer the widest selection of high-quality meat processing. Our product range includes meat grinders, sausage stuffers, mixers, tenderisers, slicers, and meat saws.The extensive selection of equipment can provide a variety of products to fit your needs.

Amazon customer reviews at time of my article and priced at $159.99 + free shipping. Check Amazon for changes.
---
Making your own Hamburger easy…
There's nothing better than making your own hamburgers. Using this little machine will make easy and give the kids great fun to do it just like the pros…
Aluminium Body Stainless Steel bowl

Heavy- duty Single Level Press Handle

Patty Thickness Up To ¾"

Patty Diameter Up To 5"

FDA certified
The Kitchen Ware Station Hamburger patty press machine HP-130 is what the professionals use for commercial operations. The price is so reasonable that it is perfect for home production as well. This HP-130 hamburger patty press machine will helps create perfect, consistent patties effortlessly with just a press. The body of HP-130 is made of aluminium alloy to ensure satisfaction of hygiene; the patty bowl is made of stainless steel, which is harder and more durable.

Amazon customer reviews at time of my article and priced at $192.95 + free shipping. Check Amazon for changes.
---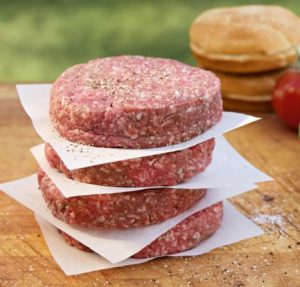 You will need these little Hamburger Patty Papers as well. just to stop them from sticking and finishing off to make a perfect home made burger.
Dry waxed coating prevents grease bleedthrough, retains moisture, and makes papers quick release

Perfect for separating burgers, homemade baked goods, deli meats and cheeses, and much more

Non-stick wax-impregnated paper makes freezing and thawing homemade goods easy and protects the quality

Place one sheet between pre-formed hamburger patties and freeze for an easy meal later

100% Biodegradable and compostable; FDA and USDA Approved for food service
Amazon customer reviews at time of my article and priced at $10.85 + shipping if under a $25 purchase Check Amazon for changes.
---
Meat Bandsaws…
For the home butcher as well as the machinery above you may need to get yourself an Electric Bandsaw. These machines are not cheap but will cut through bones and frozen meat easily. They are very dangerous if you don't know how to use it safely and when using you must always concentrate and don't allow yourself to get distracted. As we used to say in the butcher shop "they bite hard and don't say sorry"  If you are not comfortable with using such machinery then leave them alone. It is just as easy to become friends with your local butcher and ask him to cut your meat products up for you, even if you pay him  a bit. At least you will have peace of mind that your items will be cut professionally without safety concerns.
For those that want to do it all at home, I am only going to recommend a quality expensive saw. Try to keep away from meat saws that have other attachments to them, this can only mean that they are a mix and match to try and create value but more often than not they are not worth the effort or safety factor.
The goods ones are expensive and if cared for correctly they will last well beyond your life. They only need minimum maintenance and just saw blade changing when you feel the cutting struggling which means the blade is blunt. This is a sign to be extra cautious as accidents can happen because of blunt blades. The blade will bend, bow and not cut straight when the blade becomes blunt. You should always have a spare blade at the time of cutting. If you start with a blade from previous cutting and it feels blunt, just go slower and cut through the piece you are cutting and stop and replace the blade. Try to always have a spare.
Here's my recommendation from Amazon…
Follow the safety instructions carefully and machine care and this will last a life time.
Heavy Duty Commercial Bone and Meat Saw Machine

Aluminum Body with High Quality Solid Italy Saw Blade

1900W ; 2.5HP

Rotary Speed: 1420r/min

Certified by CE
The Kitchen Ware Station vertical commercial meat and bone saw machine 210 is perfect for heavy-duty meat and bone cutting in butcher shop, deli and home. With its 65" length and .02" thick saw blade, you can easily and effortlessly cut through bones, frozen meat, fish and more up to 6" thick and 7" height.
Kitchen Ware Station B-210 provides the best, quickest, easiest and most accurate cut slabs of meat with our 20" x 15"bench/ table top that provides a large stacking space and simple breakdown for cleaning. The working table is made of high quality stainless steel, confirms to the international sanitation standard and approved by CE.
The body is made of aluminium that guarantees rugged durability in a relatively lightweight construction. The saw blade is made of solid steel that provides a firm and durable use. The motor of our KWS B-210 stores in a separate compartment which makes cleaning so much easier. It also features with a built in waterproof safety device, the machine will automatically stop working when the machine outer cover is opened.
Amazon customer reviews at time of my article and priced at $1689.00 + $100 shipping. Check Amazon for changes.
---
These are the basic machines that you can use to enhance your butchering skills. For other tools and butchering needs click HERE.
All of these items can make great gift ideas and there's nothing like getting together and making a batch of sausages or hamburgers and then cooking them all up and discussing and comparing recipes. Why not make it into a friendly competition to see who can get the bragging rights of best home butcher.  
John