Artisan make at home Meat Kits. A great gift for a meat lover…
Beef Jerky making kits, Dry Age Beef making kits, Bacon making kits, Turkey Brining making kits Sauce making kits. Any one of these make at home kits would make a pleasant surprise for that special person in your life. Great for the meat Artisan or just having fun with friends, family and the kids. 
Here are a few of my favourites from Amazon and similar can be found on eBay if you can purchase from Amazon.
---
Sausages Seasonings and Casing Items…
You're going to need some seasoning and casing to make your home made sausage and I've listed a few choices that you can try out from Amazon. 
AC Legg Sausage Seasoning have a great very affordable range and here are just a few…

 
One 10 oz. Bag of AC Leggs Old Plantation Maple Flavored Breakfast Sausage Seasoning Blend #8 Seasons 25 pounds of meat.
Mix bag with 25-lbs. of meat. You can use 25 lbs. of lean pork (boneless pork shoulder butts will work if you can't purchase 80/20 pork trim from a butcher shop). Or you can use 22 lbs. of lean pork and 3 lbs. of lean beef. Empty entire bag of seasoning into the 25 lbs. of meat and mix thoroughly (it works best if you cut the meat into small chunks first). Then stuff the sausage into natural hog casings for links. Or you can package the sausage in 1 lb. bulk freezer bags.
DeWied Salted Home Pack Size™ brand Sheep casings are vacuum packed in re-sealable zip-lock pouches – Instructions and recipes on each package
Stuffs 15 lbs. to 30 lbs. of meat – DeWied Natural Sheep Casings are edible.
---
Sausage Casings…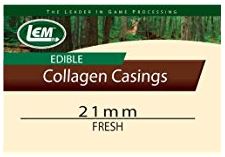 These come in two main forms…Collagen Dry casings or Wet Pack Casings as we butchers call them. They both have there good points and bad points and for the home sausage maker I recommend the Collagen Dry style casings as they are easier to handle without to much fuss. 
For my detailed explanation of how to use these casings correctly click over to my Sausages at Home page and a little down the page you will find direction of how butchers use them.
I've listed both types so you can try each variety and see which works best for you.
Follow the instructions on how to prepare and use these casing and I am sure you will have success very easily.
---
Beef Jerky Kits…
Dehydrator and jerky maker with 4 13-1/2-inch-wide drying trays

350-watt element; fixed-temperature, top-down, fan-driven power head

Dries food quickly and evenly–in hours instead of days with no tray rotation necessary

Includes jerky gun with 3 attachments and spice/cure packets for up to 4 pounds of ground meat

Measures 14 by 14 by 9 inches; 1-year limited warranty
Faster, more even drying without rotating trays
Nesco's innovative Top Mounted Power head that dries food quickly and evenly with superior results. Fan-Flow Technology means faster, more even drying with no tray rotation necessary. Perfect for the beginner, with one touch operation. Simply flip the switch and the temperature is set automatically to ensure precise results. With 7 trays you get over 7 square feet of drying space. Makes up to 7 lbs. of jerky in one batch! An economical choice, you can make homemade jerky for about a third of the cost of store-bought. Top detaches making the base and drying trays easy to clean and top-rack dishwasher safe.
Amazon customer reviews at time of my article and priced at $35.18 + free shipping. Check Amazon for changes.
---
Uses only 100 watts of electricity

5-tray capacity lets you dry lots of food

Internal temperature of up to 133 degrees F

FDA-approved trays are dishwasher-safe

Includes 5 trays, jerky kit, instructional book with marinade recipes

Box includes 5 trays, tray cover, electric base, 5-piece jerky kit and marinade recipes

Makes great non-perishable, bring-along snacks for camping or even game day

Quick, healthy and delicious jerky

For best results, follow instructions carefully, do not overload
Ronco has more than forty years of experience creating innovative, cutting-edge kitchen devices like pasta makers, counter top rotisserie ovens, food dehydrators, chopping gadgets and others that reduce the amount of time spent in the kitchen so that families can share a healthy, delicious meal together. Dehydration is the one of the easiest and most efficient methods of food preservation. Food is exposed to heat and air in order to remove moisture. Lacking moisture, bacteria and micro-organisms are inhibited. So dehydrated foods can be preserved for long periods without refrigeration and they have far less weight and bulk.
Create your own Delicious Snacks
Amazon customer reviews at time of my article and priced at $34.46 + free shipping. Check Amazon for changes.
---
Jerky Seasonings…
Nesco 3 pack below is very popular with 1548 customer reviews.


---
Dry Age Beef Kit…
I have an article on UMAi Dry® Age Beef Kit that is a top line product. You can't go wrong if you just follow the instructions to make your own home made tender and delicious flavoured beef. Read the article to understand more about the uniqueness of Dry Aged Beef. A great gift for the beef connoisseur. 
UMAi Dry® is National Restaurant Association 2011 award winning technology that produces amazing dry aged steak results in an ordinary household refrigerator safely, cleanly and effortlessly. Now this solution is available to everyone. Specially formulated membrane bag allows moisture and oxygen to transfer and eliminates the mess, mould and odours that are typical for open air dry aging process. This product has been sold for more than 6 years by UMAi Dry® with thousands of satisfied customers. This kit comes with: Vacuum Sealer to apply the bags, an assortment of bags for typical boneless ribeye, striploin (NY strip) and smaller roast bags, as well as vacuum storage bags for preserving your dry aged steaks in the fridge or freezer. This kit comes with complete set of instructions for dry aging as well as special adaptors for use with the vacuum sealer. Dry Aging is easy and yields incredible tasting steaks that are served only in the most upscale establishments. Check out the prices of dry aged steaks and you will see that this process is well worth it. Just like a fine wine, beef must be aged to get the best flavor, dry aging is the only way to get true gourmet steaks.
As well as dry aging beef steaks there are kits available for Drying Sausages and Drying Cold Cuts. Fantastic technology and easy to follow instruction.
Artisan Dry Cured Meats Charcuterie Starter Kit by UMAi Dry® is the same as the Dry Aged Beef Kit above.
These kits would make an excellent gift for the person that really enjoys the great flavour of meat and create artisan style products from home.  A highly recommended product.
---
Perfect for a gift.
Make your own Bacon

A great project for full time foodies, novice cooks and bacon lovers

Kit contains Curing Bag, Pink Curing Salt, Premium Maple Sugar and Thermometer

Easy to follow instruction sheet guides you through every step

Does not include pork belly

Each kit is good for 5 lbs of pork belly
The Original Bacon Kit + pork = homemade bacon! With The Original Bacon Kit anyone can cure their own tasty bacon at home. Use The Original Bacon Kit, add a pork belly that you buy from any butcher or meat counter, follow the 7 easy steps and you are on your way to making bacon. It's that easy! Until you've tried The Original Bacon Kit you've never tasted bacon as nature intended it.

Amazon customer reviews at time of my article and priced at $27.95 + free shipping. Check Amazon for changes.
---
Brining Kits for Turkey and Other Meats…
A great gift to set Thanksgiving and Christmas off to a great start. These Kits can be used for all other meat types as well.
5 simple steps to your best tasting turkey ever

Kit includes brine mix, one large brining bag, recipes and instructions

All natural kosher with no artificial flavors

Gluten and nitrate free

Great for 25 lb turkey

Amazon Best Seller
Rosemary, bay leaves and thyme blend to create the ultimate herb flavor brine for juicy and tender turkey every time. With the turkey perfect herb brining kit from fire and flavor you are just 5 simple steps away from a delicious turkey with a crisp, golden skin. Brining is a process that greatly improves the flavor and moisture content of lean meats like chicken, turkey, and pork. By brining, you trap in moisture and create unforgettable juiciness and flavor in the meat. Ingredients: kosher salt, herbs, and black peppercorns.24.5 ounces.
Apple Sage Flavour $16.49, Cajun Flavour $17.99, Herbs Flavour $8.73

Amazon customer reviews at time of my article and priced at $23.95 + shipping. Check Amazon for changes.
---
Perfect Turkey Every Time

5 Gal Brine Bag Included

Adds Tons Moisture & Flavor

American Made Turkey Brine

Mixes in Seconds No Heating

Brine Dry Mix and Dry Rub
Championship Turkey Brine Kit – by Kosmo's Q Every want to know How to cook a thanksgiving turkey better than you have ever had? Our Turkey Brine Recipe Kit – will change everything you thought you knew about your Thanksgiving turkey. Add tons moisture and flavor to your Turkey breast this year. With our turkey recipe kit you will get extraordinary results this holiday with minimal effort. Our easy Turkey Brine kit mixes in seconds and will delivery ton of compliments for you. (CONTAINS NO MSG) (Gluten Free) When it comes to juicy turkey Kosmo's turkey brine is by far the best turkey brine kit that you can purchase. This is an instant brine that never has to be heated or cooked, simply mix it up and drop your turkey into the turkey brine bag and chill away. After your turkey has set in the turkey brine for the appropriate time pull that sucker out and rub her down with our famous Dirty Bird turkey rub and get to cooking. Kit Comes with the following: 1lb Bag of Turkey Brine 1 Shaker of Dirty Bird 1 Brine Bag 1 Kosmo's Q Koozie
Amazon customer reviews at time of my article and priced at $29.45 + shipping. Check Amazon for changes.
---
Tasty Sauce Making Kits…
Fun with the whole family and a great gift for anyone.
AUTHENTIC HOT SAUCE KIT: Makes 7 bottles of lip smacking gourmet hot sauce right from home. It contains, 3 Glass Woozy Bottles, 4 Squeeze Bottles, a 2-inch funnel, an Apple Cider Vinegar bottle, a zipped pouch of Spice Blend, 2 pairs of gloves, 5 pH strips. Also, 3 woozy reducers, 3 black caps, 4 squeeze bottle tops with red cap, Ancho Pasillas, Chipotle and Habanero Pepper bags – instruction card, an open/close pouch of Ghost Pepper & 7 label stickers.

5th GENERATION PEPPER FARMERS: So what's the secret sauce behind the secret sauce? Simple. The highest quality peppers grown from a small 5th generation local pepper farm in Boulder, Co. Including the "Top Secret" 100% pure ghost pepper booster packet!

FULLY COLORED, FULLY ILLUSTRATED RECIPE CARDS: Includes step by step printed recipe cards that have been tested multiple times (tough job huh?) to ensure the perfect hot sauce each and every time. Recipe card also includes pro tips and flavor enhancing guide.

MADE IN THE USA: By people who love making high quality products with high quality ingredients for high quality people. Ingredients include all natural, gmo free, heirloom peppers… did we mention the "Top Secret" 100% pure ghost pepper booster packet?

Other kits available
Just one one happy customers review…
BEST. GIFT. EVER: "I got this kit for my hubby for the holidays and he absolutely loved it! I am an attention to detail freak, and appreciate all the extra goodies included like the gloves, ph strips and bottling funnel. So far we made 3 of the recipes that came with the kit and the Smokin' Sauce is our favorite… seriously better than anything we ever tried!" (5 Stars) Amanda
A message from the seller…
"Your own homemade and all fresh hot sauce created by your own hands… or feet. Hey, it's your sauce… you decide. To do this all you need is a really cool hat and this Hot Sauce Complete Kit. The most tasty meals and dinners, are created only with the freshest and most natural products, given by the earth itself. Our family farm has been cultivated with the finest quality peppers for 5 generations now! What we offer goes straight from production to consumption!"

Amazon customer reviews at time of my article and priced at $49.95 + free shipping. Check Amazon for changes.
---
Bonus Box now includes 2 sauce bottles and a MadChef Apron

Makes up to 14 different cups of your own favorite BBQ sauce using the 18 spice blend MadChef BBQ Sauce base

Instructions and 5 recipes to make any style including KC, Memphis, Alamaba, Carolina, Texas or even your own secret BBQ sauce recipe

A great gift for any grill master

BONUS Fanatic Pack contains extra samples of flavor add-ins (honey, grape jelly, teriyaki & more) to tweak your creation beyond the included recipes
If you have ever spent hours grilling or smoking your meat to perfection, or know someone who has then this MadChef Kit is for you! Have you ever wondered why you spend all that hard work and time to get the perfect meat and then just slap on a $3.00 bottle of BBQ Sauce. You don't have to make that mistake ever again! With MadChef BBQ Sauce you get to make your own secret gourmet BBQ sauce. We've done the research, given you the tools, and done all the planning so you can focus on the joy of creating. We've thought of everything inside the box so you can think outside of it! This is great for the Grill Master who loves to show off their skills. Go ahead…take all the credit…You're the MADCHEF! BONUS Fanatic Pack contains extra samples of flavor add-ins (honey, grape jelly, teriyaki & more) to tweak your creation beyond the included recipes.

Amazon customer reviews at time of my article and priced at $29.99 +  shipping. Check Amazon for changes.
---
A Sauce Recipe Book might come in handy too.
---
These are a fine selection of products that will make outstanding gifts or even for just that special get together occasion to enjoy a BBQ grilling session. If you would like to search other gift ideas just click HERE and go to my main list.
Hope you find something that you're looking for.
John