My Beef Recipes….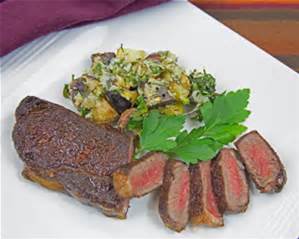 Here are some beef recipes. I have used some of these with great results and the others I have wanted to share as they look delicious and tasty. I love cooked beef in all forms and I hope you can enjoy these easy recipes. Please send feedback and comments if you've tried any…
---
ITALIAN RIB EYE STEAKS
2 Rib Eye Steaks cut into halves

1 Teaspoon Fresh Rosemary Chopped

1/2 Teaspoon Salt

1/2 Teaspoon Freshly Ground Black Pepper

2 Garlic Cloves Minced

Cooking Spray

4 Lemon Wedges
Combine ingredients 2,3,4,5 and rub mixture over both sides of steaks.

Coat frying pan with cooking spray.

Add steak pieces to pan and cook for 2 1/2 minutes. Turn steaks over and cook for further 2 minutes.

Remove from pan and let stand for 5 minutes.
Serve with lemon wedges.
I use this recipe and add other seasoning's and herbs all the time. Just add your own twist. Easy and versatile.
Marbled rib eye steaks require little help to deliver satisfying flavour.
Recipe by myrecipes.com
---
BEEF RUMP CAP ROAST WITH PORTUGUESE MARINADE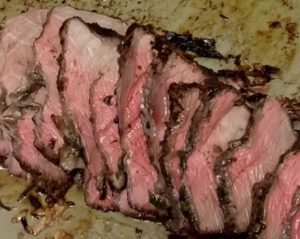 This is one of my all time favourite marinated roasts. The savoury and tasty marinade is so fantastic I use it on beef, chicken and pork. I always increase the marinade recipe to have in my fridge. You won't be disappointed….
1 Beef Rump Cap approx 1kg piece, also called Picanha off the Top Sirloin. (You can use other roast pieces if you like)

Portuguese Marinade Recipe provided below.

Mixed Dried Italian Herbs or any Mixed Dried Herbs or Dried Tuscan Herbs. Amount to use at your leisure.

3/4 Cup Fresh Chopped Parsley. (or more if desired)
Portuguese Marinade
1 Cup of Lemon Juice

1/2 Cup of Olive Oil

1/2 Cup of White Wine ( optional )

3 Garlic Cloves Crushed

1 Tablespoon of Paprika

1 Tablespoon of Brown Sugar

1 Teaspoons of Chili Flakes ( add more if you like it hotter )

2 Teaspoons of Salt

2 Teaspoons of Ground Coriander

1 Teaspoon of Dried Oregano

1/2 Cup fresh chopped Parsley
Whisk or blend (my preferred preparation) all ingredients until a thick paste is formed. If the marinade is not thick enough then add more Paprika to thicken.
Make cuts into the Rump Cap so that marinade can infuse the beef. On both sides.

Smother Rump Cap with marinade and sprinkle with mixed herbs on each side.

Sprinkle with chopped parsley.

Cover with glad wrap in a dish and let marinade for a minimum over night.

Lightly grease a baking tray with cooking oil. Add a little water enough to cover the base of the baking dish.

Preheat oven at 180° for a few minutes.

Roast for 60 minutes for a rare cooked roast. Add 15 minutes for medium rare roast.
Serve with a nice crisp salad or cooked vegetable and mashed potatoes.
It doesn't matter if you use more paprika as the taste will not be over powering. Just a great tasty crust will be formed. I cook mine in my Turbo Convection Oven but turn it over approximately half way through cooking and then turn back and finish off the crusty top. Try it with a butterfly whole chicken on the grill. I love it…
---
BEEF EYE ROUND SCALLOPINI WITH WHITE WINE
One of my mum's Italian style recipes. A restaurant master piece.
10 Thin sliced Beef Eye Round Steaks.

2 Medium sliced Onions

Plain Flour

1 to 2 Cups of White Wine

Frying Pan with a Lid

Cooking Oil for the pan
Coat the Scallopini sliced steaks in flour.

Heat cooking oil in frying pan until hot.

Add steaks to pan and brown on each side.

Once the steaks are browned turn heat down to simmer and sprinkle the sliced onions over the steaks.

Pour White Wine over the onions and steaks and place lid on and let simmer on low heat until onions become soft and translucent. Approx 15 minutes.
**The Flour and Wine will make a tasty Gravy Sauce. Great to serve with mashed potatoes or spiral pasta.
---
SIMPLE BEEF STROGANOFF
Easy stove top recipe. I only try to cook the easy meals :-)
500g Beef Rump Strips

2 Teaspoons Garlic minced or chopped fine

2 Small Onions cut into segments

200g Mushrooms sliced

1 Tablespoon Paprika

3 Tablespoons Tomato Paste

1 Teaspoon Stock Powder ( any will do )

3 Cups Water

1 Cup Sour Cream

4 Table spoons Vegetable Oil
In a hot frying pan heat oil and brown beef in small batches, remove and set aside.

Return the pan to heat and add Garlic, Onions, Mushrooms, Paprika, Tomato Paste and Dry Stock Powder. Fry for 2 minutes.

Add beef and add water and stir to combine.

Bring to boil and then reduce to simmer for 15 to 20 minutes until beef is tender.

Stir in Sour Cream.
Serve with Rice or Spiral Pasta or Mashed Potatoes.
** Pork Strips can be used as substitute for beef but the cooking time will be less.
---
TASTY BEEF MINCE STICKS or FOR THE KIDS BEEF POPSICLES
500g Beef Mince

1 Onion finely chopped

1 Teaspoon Dried Oregano

1/2 Teaspoon Cumin Powder

1/2 Teaspoon Chili Powder ( optional )

Cooking Oil

8 Bamboo Skewers soaked in water or if you can find Popsicle Sticks even better.
Combine all ingredients and mix well so the mixture becomes sticky.

Shape the mince mix into sausage shapes and thread onto skewers. If you have the Popsicle Sticks, press around the Popsicle in the shape of a flat like ice-cream. Leave to rest and chill until ready to use.

Cook in an oiled frying pan or an oiled BBQ grill for 7 minutes and turning frequently.
Serve with mashed potatoes and steamed vegetables or with a yoghurt dipping sauce. The kids will love them…
** This is an easy recipe and beef can be replaced with lamb, pork or chicken. If bamboo skewers or Popsicle sticks are unavailable turn them into small meat balls.
---
BEEF RIB-EYE OR SIRLOIN STEAK WITH A MUSTARD CREAM
2 by 250g Rib eye or Sirloin Steak

1 Cup Sour Cream

1 Tablespoon White Wine Vinegar

3 Teaspoons Whole Grain Mustard

2 Tablespoon Fresh Chopped Parsley

Salt and Pepper

Cooking Oil
Lightly season steak with salt and pepper.

Heat oil in frying pan and cook steaks to your liking. 4 to 7 minutes each side.

While steak is cooking, combine Sour Cream, Vinegar and Mustard mixing into a paste.

Slice steaks in a diagonal fashion and spoon Mustard Cream over. Sprinkle with chopped Parsley.
Serve with crisp salad or roasted vegetables.
I always have some kind of sauce with my steaks. Even plain old ketchup but I might add parsley or herbs to my ketchup. My wife says I would die without ketchup :-)).
For my selection of great meat recipe books click HERE…