BBQ Grilling gift ideas that will last the test of time…
Buying a BBQ Grill as a gift or just to upgrade to a new model can be quite an important investment. As a gift you really need to make sure that the recipient will be pleased with what they receive and it may take a bit of secret research  to try and find out what they might like.
I have put together a range of grills from Amazon that I have either used, seen or researched with reviews from people that have had an experience with. I am sure that any of these BBQ grills with give anyone a big surprise when opening the box and wrapping and will give hours of great cooking fun and entertaining value. 
If you are unable to access Amazon then you can find similar items here on EBAY, just enter your item in the search bar and browse through the items until you find you special gift.
Browse through the list and don't forget to check out the accessories that will just finish off a BBQ Grill gift or just use them as small top up gifts for each and every new occasion.
---
---
40,800 BTU gas grill with 438 square inches of main grilling area

192 square inch warming rack, 12,000 BTU side burner

Durable steel construction; side shelf for handy work space

Electronic ignition; porcelain-coated cast-iron grates; utensil hooks

Measures 48″ X 28″ X 48″
The Char-Griller E3001 Grillin' Pro Gas Grill provides 438 square inches of gas grilling space; 438 square inches of primary surface and 192 square inches on the warming rack. The three stainless steel burner tubes generate a total of 40,800 BTU's. Also includes a 12,000 BTU side burner. The grill features heavy-steel construction, porcelain coated cast iron grates, dual stacks for even heating, a stainless steel thermometer, Stay Cool hood handle, and an electronic igniter probe on every burner.

Amazon customer reviews at time of my article and priced at $279.99 + shipping. Check Amazon for changes.
---
GS4 Grilling System includes two high performance stainless steel burners with stainless steel Flavorizer bars

New Grease Management System reduces risk of dangerous flare-ups and makes grease removal easy

7mm stainless steel cooking grates provide 380 square inches of cooking space with 114 square inch Tuck-Away warming rack overhead

Infinity Ignition ensures that by turning the knob, the gas will ignite and start each burner with ease, and is backed by a generous warranty

Flush-mounted side burner is perfect for preparing side dishes and sauces
The GS4 High Performance Grilling System sets a new standard in the world of backyard cuisine, and lands the Genesis II LX in a class of its own. This innovative grilling system is based on over 30 years of grilling experience, culinary expertise, and most importantly, avidly considering the wants and needs of the people who matter most – the grilling community.
The GS4 grilling system is composed of four key components: The Infinity Ignition, High Performance Burners, Flavoriser Bars, and Grease Management System. These components ensure that every aspect of your grilling experience is easy and reliable; from the moment the burners are lit to the general maintenance of your grill. And together, create the strongest grilling engine within this Genesis II LX grill.

Amazon customer reviews at time of my article and priced at $999.00 with free shipping. Check Amazon for changes.
---
Argentina Style Wood BBQ Grills. The ultimate grilling experience
Argentine V Grate

Adjustable Grill Grate Height

Side Wheel

Top Flange 1 1/2″ (This allows the Firebox to sit on a cart)

3/16″ Steel

Dimensions: 48x24x12, 54x24x12, 60x24x12, Custom

Cart with 4 casters

Split Fire Bricks are not included.

A Rotisserie is available for this grill. Call for pricing.

If you would like a front facing wheel please call us to order.

Made in the USA
NorCal Ovenworks announces a BBQ grill meant to be the ultimate wood burning grill pits for residential use. One of the most beautiful wood burning barbecue grill pits we have ever built, these Argentine barbecue grills feature heavy duty 3/16″ steel construction, a Side Brazero (Argentine ember maker) to make embers for authentic Argentine style cooking, our signature wheel, and a traditional sloped Argentine style angle iron grill grate with drip pan to avoid flareups. These Argentine Grills with Side Brazero have a cart with 4 casters for the ultimate in Argentine Grill mobility.
There are bigger and more expensive varieties that can be be turned into brick built structures. For the real serious passionate  BBQ Grillers.
I have been to parties where these types of grills have been used and the meat always turns out fantastically tender and flavoursome. At time of writing my article the price was $3200.00 with free shipping but check on Amazon for any changes.
---
High quality stainless steel – Strong 25W electric motor for large roasts

Heavy duty spit rod holds entire animal for roasting – Locking caster included for portability

Hood with glass window for faster and cleaner roast – Saves charcoal by directing heat to the – Spit length: 51″

Motor capacity: 125 LBS. – Motor power: 25W – 3 tier cooking height adjustment

Speed: 4RPM – Material: Stainless Steel – Weight: 131 LBS.
Roast like the pros in your own back yard. This stainless steel rotisserie roaster grill from Titan is ideal for roasting large game up to 125 lbs. You can roast whole chickens, hog, goat, or lamb with almost no effort. The reflective surface of the stainless steel frame reflects and focuses the heat from the coals to the meat. This cuts down on cooking time, saves coals, and adds flavour from smoke. The hood helps to extend the coal burn duration, further reduces cooking time, and keeps your roast clean by deflecting debris from blowing onto the meat.

Amazon customer reviews at time of my article and priced at $769.00 with free shipping. Check Amazon for changes. Mixed reviews but the best of the ones I researched. Great for parties and the real entertainer.
---
BBQ Accessories…
Charcoal Fire Starter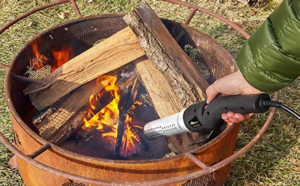 Are you ready for a night of grilling burgers or making s'mores over a roaring fire? The ElectroLight is here to help. The ElectroLight allows you to easily light your charcoal barbecue, wood burning fireplace, campfire or fire pit in 2-3 minutes. It uses 1300 degree temperature hot air to ignite your wood or charcoal, two times the temperature required to ignite wood. The built-in blower then fans the flames to the desired level of fire needed, saving more time for doing what you love. The durable heating element, motor, and switch will last you for thousands of lights.
PERFECT GIFT FOR GRILL MASTERS: This multipurpose fire starter quickly lights your charcoal grill, wood burning fireplace, campfire and more

QUICK AS A MATCH: Ignite your charcoal or fire in 2-3 minutes with this grill starter. This is the best tool to have when grilling, camping or just enjoying a fire in your backyard

DURABLE CONSTRUCTION: This charcoal starter lasts thousands of lights and is backed by a 2-year warranty

ELIMINATES LIGHTER FLUID: Uses nothing but super-heated air, which means your food will no longer taste like starter chemicals

SAFETY FEATURE: The built-in thermal safety switch cuts power to the unit when overheated and will automatically reset after it cools down, unlike other units that have a one-time fuse

Amazon customer reviews at time of my article and priced at $43.04.00 with free shipping. Check Amazon for changes.
---

Grill cover, large universal size.
You can easily search through Amazon as the range is expansive but I have found a good quality large size with a 5 star rating at time of writing my article. 164 customer reviews…
Value price of $24.99 plus shipping but check with Amazon on any changes.
---
BBQ Grilling Charcoal…
With so many varieties I have just one image from a well sort after brand. There are 571 customer reviews with a 4.4 out of 5 star rating. That can only mean quality and contented customers. An easy one to recommend. I have listed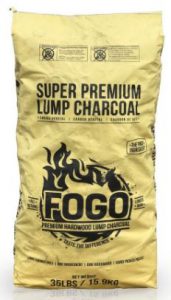 others and feel free to browse through Amazon to find your favourite charcoal.
Hand selected Large Chunks of Hardwood Lump Charcoal

Delicious Hardwood Smoked Flavor

Lights quickly and burns hotter and longer

Restaurant Quality

Fogo Super Premium Hardwood Lump Charcoal in 35 lb Bag
Great price for 35 lbs at $55.95 plus free shipping at time of my article. Check on Amazon for changes.
Kingsford Original Charcoal Briquettes, 2 pack 7.7 lb bags $22.23 (at time of article)
Frontier Jack Daniels Whiskey Barrel Charcoal Briquettes JD.WBC68.U06  6.8 lbs $12 (at time of article)
Fire & Flavour John Wayne Briquette Charcoal 8.3 lb 1 pack $25, 3 pack $39.99, 6 pack $89.99 (at time of article)
These are a few best sellers with high customer rating but I am sure you can find your tried and tested charcoal within Amazons range. As a gift some of these unique flavours will surely put a smile on who ever gets them.
---
BBQ Grilling Tool Kits…
29 PIECE BBQ UTENSILS SET: This all-in-one-set includes: Spatula | Salt and Pepper Shakers | Tongs | Fork | Cutting Board | 2 Copper Brush Heads | Bottle Opener | Glove | Carving Knife | Cleaning Brush | 2 Meat Claw Handles | Thermometer | Basting Brush | 4 Skewers | 8 Corn Holders | Aluminum Storage Carrying

HEAVY DUTY TOOLS: Our professional grade stainless steel utensils stay in good condition over repeated use without rusting or breaking. Hang them on hanging loops on the handle.

ESSENTIALS KIT: With a carving knife, basting brush and meat tenderisers to go with the essentials, you'll grill like a pro! The handles are long to keep you safe and away from the heat.

ALUMINUM STORAGE CASE: Keep the tools protected from the elements in the portable storage case, or take them with you when you are on the go travelling, at a cookout camping or hiking.

A GREAT GIFT: This is the perfect Father's Day gift, or birthday present for your boyfriend, dad or husband. This BBQ kit has everything you need for a perfect summer-time barbecue.

51 Amazon customer reviews $38.99 plus free shipping at time of my article.
There are many tools and kits available, the Vysta has everything you need but browse through Amazons range to find what you feel would suit the person you are buying the gift for. Some very nice wood handled tools give that rustic feel when cooking a BBQ.
---
BBQ Grill Mats…
Keep the BBQ clean with these easy to use grill mats. Strong and sturdy and saves time with cleaning up after cooking. Best seller with 3923 customer reviews. High star rating and ranked as one of Amazons sort after products.
NEW AUTUMN SALE! Stock up now and save a bundle with our Kona grill and baking mat sale. These grill accessories are unique bbq gifts men & barbecue lovers truly enjoy.  Also Try The Kona XL Grill Mat, Covers An Entire 4 Burner Grill.

FAR MORE SUPERIOR than other grill mats. The one and only 600 DEGREE Peak Temperature PFOA free BBQ grill and smoke mat.

KONA IS THE THICKEST at 0.39mm. That is 4X Thicker Than Yoshi grill mat and 2X Thicker Than Miracle grill mat. Kona non stick grill mats can be used over 1,000 uses per side, that's 50 times more uses than ordinary grilling mats, and why they are used by top amateur grillmasters and professional chefs worldwide.

CLEANLY & EASILY GRILL the juiciest steaks, smoke the tenderest chicken and sautee the thinnest cut vegetables with ease. Forget grill baskets and other accessories! These mats also keep your Weber, Traeger, Char Broil, Kamado, steak grilling pan, etc. looking shiny new.

BEST OF ALL you automatically get our "No Hassle" 7 year Kona grilling accessories guarantee, which even covers accidental overheating. Scroll down to "Special Offers And Promotions" to save even more money on todays purchase. Then, click "Add to Cart" now!
3923 Amazon customer reviews Promotional Sale price of $19.95 plus shipping at time of my article.
---
These are a few on my selections within the BBQ Grill category and check for more of my selections on my other gift ideas for meat lovers by clicking HERE.
Amazons list of items are endless and just click through until you find what you are looking for. Alternatively if can't access Amazon or they won't ship to you, similar items on can be found on Ebay.  Enter your search in the top bar and go through the items until you find what you need.