Kitchen Appliance Gift Ideas for everyone in the household…
Finding a gift that will put a smile on the receivers face can be a challenge at times. Why not try with an addition to the kitchen for everyone to use. My selections below are what I use when I prepare my meats for a delicious meal. Great for marinade preparation but also, can be used for other cooking needs as well. Not just for meat specifically.
If you can't purchase from Amazon you can find similar items on eBay HERE.
I hope you find these useful…
---
---
Food Processors…
Yes, we use these in the butcher shop…we use these for various production but mainly for mixing, chopping and blending ingredients for marinades and rubs. They are fantastic machines and below I will recommend 3 standout items. The last one is the same that I used when I was in Shanghai except the bowl was stainless steel.
This is a beautiful machine that can blend and mix ingredients for marinades and rubs easily plus more.
Dice cubes, slice thick to thin, shred, knead, chop, mix and puree

Easy Stack & Snap assembly with no difficult twisting

Heavy-duty construction. Easy-clean touch pad controls with LED indicator lights

Includes 5 attachments and storage case

14 cup capacity

5 year limited warranty
Dice, Slice and Shred like a Pro
Bring commercial quality performance to your kitchen counter top with the Hamilton Beach Professional 14 Cup Dicing Food Processor. Designed for the accomplished home cook, this food processor includes everything you need to quickly dice, slice, shred, knead, chop, mix and puree to your exact specifications.
There's minimal pre-cutting with the 3-in-1 Big Mouth feed tube, which fits whole foods as well as small, thinner pieces. The 14-cup, BPA-free bowl stacks directly on the base without any complicated positioning, and the lid snaps securely to the bowl with a heavy-duty die-cast locking arm. The bowl has a pour spout with a leak-free seal to prevent messes.
The electronic touch pad features two speeds plus pulse and easy-to-read function icons to eliminate guesswork. A compact storage box keeps accessories organised and accessible. The blades, bowl and lid are all dishwasher safe.
Amazon customer reviews at time of my article and priced at $189.59 + free shipping. Check Amazon for changes.
---
With 990 customer reviews at time of my article, this guy fits the deal easily…
Includes stainless-steel slicing disc, shredding disc, and new chopping blade

720-watt large-capacity food processor with intuitive "on" and "off/pulse" buttons

14-cup Lexan work bowl; extra-large feed tube; small and large pushers

Spatula, instruction/recipe booklet; dishwasher-safe parts

Product Built to North American Electrical Standards

Note:Shredding and slicing blades are not adjustable. Kindly refer user manual before use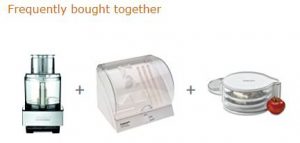 This large capacity food processor speeds all cooking–from quick, weeknight meals to weekend celebrations. With the large 14-cup work bowl, extra large feed tube and dishwasher safe parts, there's more time to share the delicious results with family and friends.

Amazon customer reviews at time of my article and priced at $198.13 + free shipping. Check Amazon for changes.
---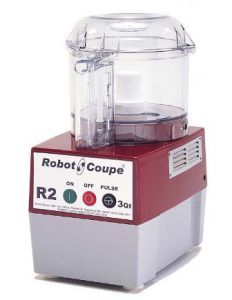 I used a Robot Coupe for my marinade and seasoning blending. Making batches for hundreds of KG of meat. Chopping and blending in very quick time with easy safe lock tight lid to stop spilling and mess. Highly Recommended.
On/off and pulse switch

Induction motor

Stainless steel smooth edge "S" blade

3 qt. clear poly carbonate cutter bowl with handle and see-thru lid

See-thru lid allows you to see product inside
Great for commercial kitchens or home family uses. The Robot Coupe easily cuts fresh ingredients and also turns nuts into butters quickly and efficiently. The clear bowl makes it easy to see how your blend is going and the pulse switch makes it easy to stop and start to chop large ingredients easily. Marinades made easy and smooth with the Robot Coupe.

Amazon customer reviews at time of my article and priced at $945.00 + free shipping. Check Amazon for changes.
---
Need I say more…many happy customers with the NutriBullet. I use it at home when I want to make a small blend of a marinade. Quick and easy and makes a great gift any time.
Effortlessly pulverizes fruits, vegetables, and superfoods for nutritious protein shakes and green smoothies

High-torque power base and 600-watt motor

Power, patented stainless steel blade design with cyclonic action

Includes power base, 1 tall cup, 2 short cups, 1 flat blade and 1 emulsifying blade, 2 re-seal able lids, pocket nutritionist and manual with recipes

Includes 1-year warranty and access to hundreds of smoothie recipes

12-Piece Set Includes:

1 High-torque Power Base

1 Extractor Blade

1 Milling Blade

1 Tall Cup

2 Short Cups

1 Handled Lip Ring

1 Regular Lip Ring

2 Stay-fresh Resealable Lids

1 User Manual & Cookbook

1 Pocket Nutritionist
Amazon customer reviews at time of my article and priced at $69.99 + free shipping. Check Amazon for changes.
Or for a bit more power get the NutriBullet Pro-13 pc set with a 900-watt power motor.
---
Vacuum Packaging Machine for home use…
Starter Kit includes: (1) 11″x10′ Roll, (3) Qt Heat-Seal Bags, (2) Gal Heat-Seal Bags, (3) Qt Zipper Bags, (2) Gal Zipper Bags

Built-in retractable handheld sealer seals zipper bags, canisters, containers and marinates food in minutes

Moist/Dry food settings for optimal sealing

Convenient roll storage and bag cutter

Pull-out drip tray drawer with patented, removable, dishwasher-safe drip tray

FoodSaver Vacuum Sealing Systems are engineered to work best with FoodSaver bags and rolls
Amazon customer reviews at time of my article and priced at $152.19 + free shipping. Check Amazon for changes.
---
Slow Cooking for that tenderness and juiciness…see my selections of Slow Cooker Masters
Quality and always a perfect cook for anything that you desire. Mum would be delighted with all the cooking time set up in minutes. Let her enjoy life while her new Cuisinart takes care of the next great meal.
One touch switches modes when recipe calls for combination cooking

Extra-large blue backlit LCD display with easy-to-read time and temperature settings

Removable 6-quart nonstick aluminum cooking pot with teflon coating

Glass lid with cool-touch handle for clear view and comfortable handling

Dishwasher-safe removable parts for effortless cleanup, Steaming rack included, Limited 3-year warranty

Ships in Certified Frustration-Free Packaging
Create one-pot meals your family will love with the Cuisinart Cook Central 3-in-1 Multi cooker. Three fully programmable cooking functions let you saute vegetables, brown meats and slow cook your favourite comfort foods right in the unit. Skip the stove top with combination cooking — brown your ingredients in the unit and then simply switch to the slow cook function. Use the Cook Central to prep any aspect of your favourite dish. Select the steam function to prepare stuffed artichokes to start a gourmet meal or to create a healthful vegetable medley side dish. The Cook Central can even do dessert. With numerous recipes to choose from in the included booklet, the opportunities are endless!
Amazon customer reviews at time of my article and priced at $127.00 + free shipping. Check Amazon for changes.
---
The probe is an excellent idea. Takes all the guessing out to make  sure your meat is cooked in the middle.
Reduce messy spills with clip-tight gasket lid

3 choices for easy, automatic cooking: probe, program and manual

Perfect for a 6 lb. chicken or a 4 lb. roast

Thermometer probe displays the actual temperature of meat as it cooks

Full-grip handles make carrying heavy meals easier
Three Choices for Easy, Automatic Cooking
Eliminate weeknight stress with the optimum flexibility of the Hamilton Beach Programmable Set and Forget 6 Quart Slow Cooker. With three choices for easy, automatic cooking, having a family meal on a busy week night is possible. Sit down to juicy pot roast, savoury roasted chicken, or pulled pork barbecue. What you make and how you cook it are up to you. Choose Probe when cooking meats. Set the slow cooker to the desired meat temperature and it will automatically shift to warm when the temperature is reached. For soups or chilli, choose Program and set the cooking time. It will switch to warm when the set time is complete. When you're at home or able to monitor, Manual can be used. This setting allows you to choose high, low, or keep warm and the cooker will stay at that temperature. You can also insert the thermometer probe and the internal temperature of your meat will appear on the display as it cooks.
Amazon customer reviews at time of my article and priced at $49.00 + free shipping. Check Amazon for changes.
---
Entertaining at home cooking on the table with an Electric Stone Top Grill.
How about a gift like this for the whole cooking your own at the table while you enjoy conversation and laughter. These appliances are fantastic and make a great talking point as well.
Versatile usage; unfolds up to 180 degrees; separate power controls for each grill side

Includes 8 non-stick raclette dishes; 8 heat resistant spatulas and user manual with recipes

Hot stone and cast aluminium non-stick grill plate

Black base with stainless steel tray

1200 w/120v/60 hz; cetlus approved
The original Raclette… Unmistakably Swissmar! In 1985 Swissmar first began importing Swiss Raclettes into North America. With the tenacious determination to perfect this appliance to ensure it met the standards of our customers, a Swissmar brand Raclette was created. New and ingenious features such as; non-stick cooking surfaces; dual function grill top combined with crepe top; interchangeable granite stone; non-stick dishes with heat safe handles; temperature controls; and more; Swissmar has set the standard for Raclette appliances. The point of difference is in our solid sturdy designs and new line of Raclette accessories. When you think Raclette, think Swissmar! Inviting friends over to share the joy of Raclette cooking is a time honoured tradition in Switzerland, and the idea is rapidly spreading around the rest of the world. And why not? Sharing stories over drinks while creating personalised dishes is an activity everyone will love. And you'll be cooking with your friends, not for them. Please note Swissmar appliances are manufactured to North American electrical standards (120V / 60Hz / Type B plug) and as such, are only to be used under applicable conditions.

Amazon customer reviews at time of my article and priced at $99.95 + free shipping. Check Amazon for changes.
---
Great for a Family Get Together or Party
Make a new kind of cheese dish with our raclette grill. Cook up meats, veggies, seafood, and more with melted cheese – all in one unit!

Simple and portable social dining that lets everyone pick what they want from the grill and drizzle their cheese on top, or just dip their items in their cheese pan.

Non-stick surfaces allow for more sliding and easy cleanup. Reversible grill top has a flat side and a grilled side for getting just the right sear on your food. Granite stone grill top heats slowly and evenly for perfectly cooked fish, meat and veggies.

Adjustable grill temperature is ideal for versatile cooking options, and a visible indicator light makes sure you don't forget to turn your grill off when you're done. Grill top and coupelles are dishwasher safe.

Includes the raclette unit, granite stone top, reversible grill top and eight non stick cheese pans. Unit measures 18×9¼x5in with 18×9¼ inches of grilling surface. Input: 120V 60Hz 1200W / ETL Certified
Milliard offers the Raclette Grill for eight for elegant tabletop dining. A great way to entertain and enjoy delicious foods cooked right in front of everyone while having conversation and laughter. The granite stone top grills fish, meat and vegetables perfectly. A great gift for the entertainer that will keep people coming back for more.

Amazon customer reviews at time of my article and priced at $72.99 + free shipping. Check Amazon for changes.
---
One of my most favourite cooking appliances in the kitchen I use it all the time. Click HERE to see the one I use in my home.
Cooks up to 50% faster and is up to 75% more energy efficient than a conventional oven

Powerful halogen heating and convection system circulates heated air evenly around oven

Dishwasher safe glass body with two stack-able cooking racks

Ideal for low-fat cooking, seals in natural moisture & flavour of foods

Stainless Steel Extender Ring bonus
Rosewill RHCO-16001 Infrared Halogen Convection Oven with Stainless Steel Extender Ring
A blend of function and style, the Rosewill RHCO-16001 Infrared Halogen Convection Oven is a great addition to any modern kitchen. It harnesses halogen heat, convection, and infrared technologies to cook quickly and evenly, without preheating or defrosting. Foods stay moist on the inside, crisp and tasty on the outside without the use of added fats or oils, ideal for healthy, low-fat eating. Choose from broils, roast, bakes and grills to match your meal, this innovative cooking appliance does everything a conventional oven can do, only better, faster, easier, and with substantially less power consumption. 
Amazon customer reviews at time of my article and priced at $53.99 + free shipping. Check Amazon for changes.
---
Indoor Grill that delivers Outdoor Grill Results

High Heat Searing Capability

Adjustable Temperature Control

Non-Stick Plate, Indicator Lights

Extra-Large Drip Tray, Removable Hood, Plate and Drip Tray are Dishwasher Safe
Hamilton Beach Searing Grill (25360) – Sears meat for moist, tender results
Why spend money on expensive meat, only to have it turn it into leather as it cooks? Hamilton Beach Searing Grills have discovered how moist and tender meat can be when it's grilled the right way. Hamilton Beach Searing Grills quickly ramp up to a high heat that's ideal for searing in juices and flavor, then cool down to the proper grilling temperature to finish cooking. You end up with tender results in every bite, plus the skill you need to grill perfectly every time.

Amazon customer reviews at time of my article and priced at$59.00 + free shipping. Check Amazon for changes.
---
5-in-1 countertop unit works as a contact grill, panini press, full grill, full griddle and half grill/half griddle

Brushed stainless-steel housing; sturdy panini-style handle; floating cover to adjust to thickness of food

Removable and reversible nonstick cooking plates drain grease for healthy cooking; integrated drip tray

Adjustable temperature controls with indicator lights; gourmet recipes and scraping tool included

Product Built to North American Electrical Standards.
The 5-in-1 Griddler can handle everything from pancakes to sausages to grilled cheese to steaks, hamburgers and Panini's. The Griddler is simple to use and clean up is easy with the nonstick, removable dishwasher safe plates. The selector knob lets you choose the grill or griddle function and each function features adjustable temperature controls. Red and green indicator lights let you know when your Griddler has reached your desired temperature and is ready to cook. With 5 different cooking options and reversible grill / griddle plates you can easily cook an entire meal.
Amazon customer reviews at time of my article and priced at $59.99 + free shipping. Check Amazon for changes.
---
A simple good old fashioned electric frying pan.  Unique foldaway design for space saving storage. With 2323 customer reviews, now that's saying something. At the right price it can make a perfect gift for someone.
Heavy cast aluminium base features a deluxe nonstick surface, inside and out. skillet pan and cover are dishwasher safe with the heat control removed.

Built-in spout for pouring liquids from skillet doubles as a spoon and spatula holder when cooking and serving.

Fold down handles to detach skillet pan from base. with handles folded in, the base and handles store in skillet for compact storage.

16 inch

colour black
Roasts, fries, grills, stews, bakes, and makes one-dish meals. Built-in pour spout doubles as a spoon rest. Base and handles detach and nest in pan for easy cleaning and storing. Great for every meal–big 16-inch base and high sidewalls provide extra cooking and serving capacity. saves energy because it's more efficient than a range burner or oven. Tempered glass cover and stay-cool handles allow skillet to double as a buffet server. control master heat control maintains the desired cooking temperature automatically. 120 volts, 60 Hz only.

Amazon customer reviews at time of my article and priced at$49.90 + free shipping.Check Amazon for changes.
---
Any of these items would surely make perfect gifts for someone you love. These are just a few top rated quality kitchen appliances for any user in the home.
If you can't but from Amazon I am sure you will find similar on eBay and you can click HERE to search there.
If you would like to search for other of my gift choices, find my category lists on my MENU PAGE HERE
John