Rosewill R-HCO-11001

 Halogen Convection Oven Review…
A great invention and a favourite of mine
If you've read my about me page, you would know that I am currently living and working in Shanghai China. My wife and I have been in Shanghai for some 10 years now and we live in an apartment on the 9th floor. There are many apartments that only have gas cook burners and not all have ovens. Ours certainly doesn't.
One day I saw at a friend's apartment, when we were visiting, a Glass Turbo Convection Oven, and she was cooking a roast for our lunch. I was hooked. It was so nice to have a wonderful Sunday roast Lamb with roast potatoes and onions. I was very happy and certainly had my fill. As soon as we went home, we went on-line and ordered one and we've never missed that great roast meal again. ANY TIME…
We search a few different brands but found the… 
Halogen Convection Cooking. Cooks up to 50% faster and is up to 75% more energy efficient than a conventional oven. Powerful halogen heating and convection system circulates heated air evenly around the oven space
The Halogen oven harnesses halogen heat, convection, and infra-red technologies to cook quickly and evenly, without preheating or defrosting. Great for healthy cooking as it leaves food moist on the inside and brown and crispy on the outside while containing minimum fat or oil. Choose from broils, roast, bakes and grills to match your meal, this innovative cooking appliance does everything a conventional oven can do, only better, faster, and with substantially less power consumption
Turbo Convection Ovens are so easy to use. You can actually cook anything in them. Not just a roast. We use it to cook foods that are normally fried as they have setting that are designed for you to cook healthily with minimum oil and fats. They are big enough to cook a whole roast chicken but if you want to cook a larger piece of meat you can add the attachment called an Expansion Ring. It fits into the glass bowl and the cooking element sits on top of  it. It actually expands the oven so you can stretch your oven upwards to fit your bigger roasts in. Making it taller lets the cooking air circulate easier and because it is a Convection Oven, it locks in all the juices. Great innovation.
The beauty of the Rosewill R-HCO-11001 Halogen Convection Oven as well, is that it has a timer and when the timer finishes it stops cooking. Some times when I get home, I pop whatever we are having for dinner into the oven and while it's cooking I go and have a shower not having to worry about over cooking as it stops when the clock counts down. Not need to worry about burning any more.
But wait, there's another great point about Rosewill R-HCO-11001 Halogen Convection Oven. It has its own washing/cleaning cycle setting. Yep, that's right. When you've finished cooking, you add some water and a little detergent, set the timer and cleaning setting, which is low temperature, and it cleans and softens any tough and hardened meat pieces. When it stops, you take the Element Lid off and take the glass bowl over to your sink and washing is easy. No scrubbing of roasting pans any more. I use disposable roasting pans anyway. It's a good way to keep the juices to make the gravy as well.
But wait wait, there's another great thing that I like about the Rosewill R-HCO-11001 Halogen Convection Oven. It's portable. That's great for my wife and I as from time to time we have to move residence so we just un-plug it, pop it into a box and take it with us to our next apartment or house. Also because their portable, if you live in a house with a back yard you can take it out back, plug it into an electric extension lead and have it cooking nearby. Save walking back and forwards to the kitchen to check. Have some tasty potato wedges ready right where you are.
Final comment from me about the Rosewill R-HCO-11001 Halogen Convection Oven. They are very price friendly. The size is perfect and can accommodate cooking for 1 person to a whole family . A fit for everyone. Great for students living away from home and mum can make sure that they can easily cook a healthy, nutritious meal without too much fuss.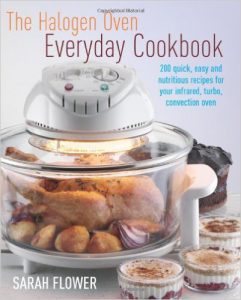 Here's a helpful link to a Halogen Oven Every Day Cook Book with easy to cook meals.

I hope you check them out and let me know your thoughts on the Rosewill R-HCO-11001 Halogen Convection Oven….in the comments below.
Enjoy…