See below links to Other Animal Primal Cuts Charts…
---
Chicken meat is the most popular meat in the World and the most consumed. The meat is cost effective and most countries are able to afford to feed their families with chicken. Consumers are trending towards Free Range or Organic grown chicken as people are wanting healthier produced chicken meat.
---
Low in chole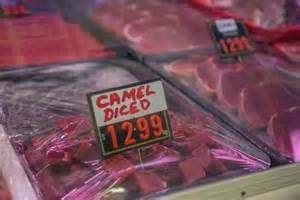 sterol and high in protein, camel meat is similar in taste and texture to beef. Mos Camel meat is processed from free range, chemical free livestock making it a completely natural product. Camel Meat is widely consumed in The Middle East, Africa, Europe, Asia and now readily available in USA.
---
Kangaroo meat is dark red in colour. It has a very strong game meats taste. The meat has become popular is gourmet
style restaurants and gourmet style butcher shops. Customers are attracted to the leanness of the meat and is low in cholesterol and fat and high in protein and minerals. It is considered one of the finest game meats.
---
I have an artilce on Crocodile and Alligator meat with great information on  nutrional and health benefits. There are explainations on the cut primals and some recipes as well.
---
If you decide to go on a Game Meat tasting experience I suggest to try out
Buy Wild Game Meats .com
They have a great range of game meats for any adventurous taste buds. Their selection is huge with Venison, Kangaroo, Goat, Frogs legs, Rabbit and even Crocodile and many many more exotic meats. Contact them for a delivery schedule.