Making Home made Sausages….
Seasoning's, Ingredients, Tools and Supplies to make your Sausages at Home…
Sausage making was originally used as a means of preserving meats. History shows that people recognized the values of salt and spice ingredients as preserving agent and meats were salted, spiced and dried as a means to have protein readily available when desired.
Sausages were mentioned in a Greek play written about 500BC called "The Orya" or "The Sausage" but it is believed that sausages were made as early as 2000 years ago. Quite a long time for a sausage to be around….
Over these many centuries, many nationalities have made sausages with all different varieties of seasoning's. Ingredients of spices
 and herbs were added to find their own unique flavour, taste and signature that they then called their own recipe invention. Over barbecues and many dinner tables around the World many an argument has been started of which country was first to have a recipe and flavour. I know, as I have been involved in a few myself.
Traditionally in Italy and European countries, sausage were made in the winter months as the sausages were left in a ventilated enclosed shelter and allowed to dry. These are the Salami and Dry Sausage varieties that we know and love. As people travelled and migrated all over the globe, sausages and different meat styles were introduced to new populations and many new varieties were born.
With the introducing of refrigeration, fresh sausages gained popularity and quickly developed into a process of where cheaper cuts of meats, meat left over's and organs (offal) were seasoned with herbs and spices to create another selling point for meat. As these types of meats were generally lower quality or trimmings remaining from higher value cuts, they could be sold at cheaper prices and affordable to less fortunate people, but still be able to give the nutritious proteins necessary for a healthy eating life style.
We are so lucky now that many of these sausage seasoning, ingredients and recipes are readily available for anyone to have ago at making sausages in the comfort of your home. Of course correct tools and supplies are required but there are many on-line stores where they can easily be attained. As well as the equipment you can buy ready prepared seasoning to create age old favourites, and unique new style sausages. A little tip for you though, buy an original plain ready to use sausage seasoning and then add your own spices, chillies, herbs, sauces and marinades to create your own signature sausage. You might even develop a brand new flavour for everyone to enjoy. Don't be afraid to experiment with new ingredients. Sweet ingredients like apples, prunes and other dried fruits have gained a foot hold in the Gourmet Style sausage arena with entries into sausage making competitions around the world.
Seasoning's, Ingredients, Tools and Supplies to make your Sausages at Home…
 Here's a list of things you need to make your own sausages at home…
Sausage Stuffer/Filler

Seasoning's

Sausage Casings or Skins

Meat Grinder
I say that the grinder is optional for a reason. The most important piece of machinery is the sausage stuffer/filler. My advice is that it is better to invest in a good quality sausage stuffer and I recommend you buy the meat already minced or ground from your butcher or supermarket. Just saves time and money and gets you into the best part of mixing and making the sausages quicker. As you gain experience and technique then you can buy your own grinder and make your sausage from scratch.
Right, now to getting yourself the tools…
---
My recommendation for your Sausage Stuffer/Filler is…
This product is a top quality item with great supplier support if needed. Top Choice
Huge drive gear, notched piston rod and all metal gears are built to deliver

Four solid stainless steel bars create sturdy frame

Two speed design: High speed for filling the cylinder, Low speed for stuffing casings

Four stainless steel stuffing tubes (5/8″, 3/4″, 1″, 1 1/2″); Great for making snack sticks

Warranty is extended to the original purchaser only; Warranty card MUST be filled out and returned immediately with a copy of purchase receipt
Experience the ultimate stuffer with LEM Products 1112 10 Pound Dual Gear Stainless Steel Vertical Sausage Stuffer. The huge drive gear, notched piston rod and all metal gears are built to deliver and withstand the pressure needed to stuff even small sausages. Four solid stainless steel bars create a sturdy frame that won't bend or bow under pressure. Two speed design: High speed raises the piston quickly for filling the cylinder while Low speed is for stuffing casings. Air release valve in piston ensures even pressure and better results. Heavy-duty rubber gasket seals the cylinder to prevent leaks. Stainless cylinder is removable for easy filling and cleaning. Mounting holes in base. Includes four stainless steel stuffing tubes (5/8″, 3/4″, 1″ and 1 1/2″). that make food preparation easy and fun. We will support our customers with end-to-end service and guaranteed satisfaction. We believe home processing to be an essential part of the outdoor experience and will continue to promote the responsible use of our quality machine. Great gift and a great way for the whole family to enjoy a memorable experience.
Priced at $264.30 + free shipping. at the time of my article and check Amazon for any changes.
If you want to go motorised LEM Products have a 30 lb  Sausage Filler as well. It's a jump up in price but when you get serious, you get serious :-)))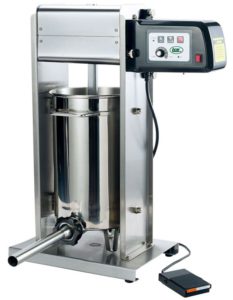 ---
Seasoning's, Spices, Herbs and Sausage Casings…
There are many seasoning, spice and herb companies that you can find and you will eventually discover your favourite and convenient supplier as you become experienced by experimenting yourself with your own recipes. I will give a basic recipe base and then give you ideas to create your own signature sausage that you can call your own invention near the end of my post. In the mean time one company that I recommend is…
---
Blackwoods Seasoning
Here is my Backwoods Seasoning recommendation. Bratwurst sausage seasoning can be used as a base seasoning and then add your own spices and ingredients to create your own signature sausage. 
Great for sausage links or patties

Fresh sausage seasoning

Great for breakfast or any time

Use beer instead of water to make beer brats

Seasons 25 pounds of meat
Blackwoods have many other varieties and you can search for seasoning's that you might like to try quite easily.
---
Another brand that I recommend is…
These seasoning are geared towards game meats but they can be used for any meat type.
---
AC Legg Sausage Seasoning have a great very affordable range and here are just a few… 
One 10 oz. Bag of AC Leggs Old Plantation Maple Flavored Breakfast Sausage Seasoning Blend #8 Seasons 25 pounds of meat.
Mix bag with 25-lbs. of meat. You can use 25 lbs. of lean pork (boneless pork shoulder butts will work if you can't purchase 80/20 pork trim from a butcher shop). Or you can use 22 lbs. of lean pork and 3 lbs. of lean beef. Empty entire bag of seasoning into the 25 lbs. of meat and mix thoroughly (it works best if you cut the meat into small chunks first). Then stuff the sausage into natural hog casings for links. Or you can package the sausage meat in 1 lb. bulk freezer bags.
---
---
Sausage Casing for Filling
Now you are going to need Casings to fill your sausage meat into. My easiest, quickest and cleanest recommendation is to use Edible Collagen Casings but for the old tradional style of sausage making why not use natural raw casings.
Lets start with the Collagen casings…
Edible collagen casings made of beef protein

Easy to use, no preparation

Store in a cool dry place in your pantry. No need to refrigerate

Uniform in size for easier stuffing

Come in rolled strands of varying lengths

Size 21mm
Approximate stuffed weight of 20 pounds.
The Edible Collagen Casings have taken the place of using natural hog or sheep casings. They can be used for fresh or smoked sausages. They are made from beef protein. There is no preparation necessary. Just thread them on your stuffing tube and before you know it you will have uniformly sized sausages! The 21mm are great for breakfast sausages and LEM also have a 19mm Smoked variety casing as well here.
These are a thinner variety and can be smoked if you like or let the sausages sit and set over night after linking and they do absorb a slight smoky flavour from the casing. Only slightly though.
Now this is important when using Collagen Casings. Many people have problems linking the filled casing into sausages. These are the steps and tricks for linking:
DONOT OVER FILL THE CASING. You will learn to the gauge the fill amount into casing as the meat comes out of the nozzle by feeling the firmness. This art with improve as you gain experience. You want the sausage to bend a little when you hold it up.
Collagen casings go straight onto the nozzle as a dry casing. As soon as the casing is filled SPRINKLE A GOOD AMOUNT OF WATER OVER the whole long sausage. After that they will be easier to link and tie into your desired length. If you feel the casing ready to burst when linking, it means that the sausage has been filled too much. Easy fix, just make your sausage link longer and that should avoid bursting. Next time you fill the next casing just adjust the fill amount if you want smaller sausage links.
---
Raw Natural Hog and Sheep Sausage Casings
Now these take a little more work for preparing before filling them out but give great effect.
When you remove them from the packaging they should be all covered in salt. You must rinse them thoroughly under fresh cold running water and shake them around as the water runs through them removing the salt. If you don't do this properly your sausages will tasty salty from the remaining salt on the casing skin.
Once rinsed put them into a container of water and leave them in the water to soak and soften. When ready, draw a casing from the water and after finding the end, hold it open and dip it into the water a number of times to add a little water into the casing… maybe half a sausage length…dosen't have to be precise but just to get some water inside. This just softens and cleans the casing out a little and will help with sliding onto the nozzle and also with filling. 
Now place the end over the filler nozzle and as you slide the casing skin onto the nozzle, pinch the skin and push the water through the casing until you have all of the skin on the nozzle and the water has been pushed out of the whole casing skin. You use one hand to slide onto the nozzle and the other to hold and squeeze the water out. Sounds complicated but you will get better with practice and repeativness. 
There will be instructions on the packaging as well and just follow each manufacturers guide.
When you've finished making all of your sausages and have some casings left over, no problem. Any left over casings can still be kept for next time. Remove the left over casing skins from the water and place them into a plastic bag, add a handfull or two of normal salt into the bag and shake them around so that the salt covers the casings. It doesn't matter how much salt is used as long as the casings are well covered. Squeeze out the air from the bag, tie it up and pop it into your freeze. For next use just follow the procedure and away you go.
Fill them out the same as explained above for the collagen casings. Becareful not to over fill as these casings will burst easily…
Right my recommendations…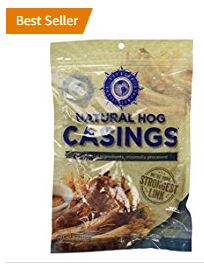 Follow the instructions on how to prepare and use these casing and I am sure you will have success very easily.
---
So you now have all the details to get started. Here are some ideas and hints to make your own Signature Sausage…
Before I get into the recipe I want to give a hint about the meats to use. Basically you can use any meats you like but to keep your sausage moist, juicy and flavoursome make sure you add the animal varieties fat. The best ratio is about 20% to 30% fat against 70% to 80% lean meat. Of course you can make 100% lean meat or a 10% to 90% mixture if you want and create a healthy lean sausage but you will find that after cooking, the sausage will taste dry and not as flavoursome as a sausage with a little fat. The fat traps the salt and spices within the sausage and just gives that great taste. Experiment yourself.
---
My Basic Sausage Recipe Base
For 1kg of meat (2.2lb)
4 grams Salt
2 grams White Pepper Powder
2 grams Garlic Powder
0.2 grams Nutmeg Ground
A little water (for 10kg of meat you would use 1 to 2 cups of water)
With this basic recipe base you can add whatever other ingredients you would like to experiment with. You can also buy a prepared basic plain sausage seasoning that you like the taste of, and then add any of the listed ingredients below to create your Signature sausage. Mix and match and don't be afraid to try anything.
There are really no rules but remember that salt is the most important ingredient that will enhance the flavour of the other ingredients you add. Too much salt will make the sausage unbearable to eat and make you drink that extra beer to quench your thirst and too little salt will not give the impact of flavours you wish to achieve. 
Add any of these to your hearts content…
Sun dried tomatoes in oil with fresh basil leaves

Sun dried tomatoes in oil, fresh basil and feta cheese

Lamb, rosemary and thyme

Lamb with dried fruits. Apricots, prunes, apple, raisins and sultanas. Add some fresh parsley with these to give




a fresh herb colour.

Pork with sage and onion

Pork with sage and apple

Pork with sage, apple and feta cheese.

Chicken with canned corn and cheddar cheese. Use the canned corn water and cut back on the normal water amount used as the seasoning recipe says.

Chicken with fresh spinach and onions. A great way to get the kids to eat their spinach.

Beef with cheddar cheese and bacon.
The list can be endless with nuts, sauces and marinades. Just experiment and have fun.
Why not get your friends and family together over for a weekend and have a sausage making competition event. Fun for all. Have a Barbecue Tools Kit as a prize for the best SAUSAGE.
---
Just another tip or idea for you. Just because you use the prepared meat for sausages, why not even use the same meat to make your own signature hamburger. Using a manual hamburger press will make the job faster and easier. Even look really professional. Easy to operate and easy to clean as well…
Make your own Hamburgers easier…
There's nothing better than making your own hamburgers. Using this little machine will make easy and give the kids great fun to do it just like the pros…
Aluminium Body Stainless Steel bowl

Heavy- duty Single Level Press Handle

Patty Thickness Up To ¾"

Patty Diameter Up To 5"

FDA certified
The Kitchen Ware Station Hamburger patty press machine HP-130 is what the professionals use for commercial operations. The price is so reasonable that it is perfect for home production as well. This HP-130 hamburger patty press machine will helps create perfect, consistent patties effortlessly with just a press. The body of HP-130 is made of aluminium alloy to ensure satisfaction of hygiene; the patty bowl is made of stainless steel, which is harder and more durable.
 Priced at $192.95 + free shipping. at the time of my article and check Amazon for any changes.
---
To stop those hamburgers from sticking together you will need some proper Hamburger Patty Paper. Why not finish the job off like a pro…
Perfect for separating burgers, homemade baked goods, deli meats and cheeses, and much more

Non-stick wax-impregnated paper makes freezing and thawing homemade goods easy and protects the quality

Place one sheet between pre-formed hamburger patties and freeze for an easy meal later

100% Biodegradable and compostable; FDA and USDA Approved for food service
Priced at $10.85 + shipping if under a $25 purchase at the time of my article and check Amazon for any changes.
---
I hope this article has been helpful to you and if you need any further assistance please contact me and leave some feedback in the comments section. I would love to hear about your sausage adventure
You can also click HERE for MAKE AT HOME KIT IDEAS.