Lamb Meat Cuts From A Carcass Breakdown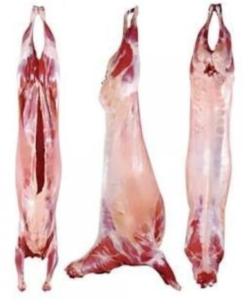 You may have seen my other articles on beef forequarter, beef hindquarter and pork carcass breakdown, so today I will show you a video of how a master butcher expertly cuts, trims and slices a whole lamb into ready to cook lamb meat cut portions. 
I have turned to a video from The Scott Rea Project to show you how it's done. Watching the video you will see how he uses a butchers handsaw and his sharp knife to masterly remove each primal and then using his skills turn each piece into what you may have already seen in your butchers display cabinet or supermarket shelves.
Lamb is a favoured meat for many people around the world with many different cooking styles and also each country has different names for the cuts that they sell. I have a Lamb Cuts Chart within my website so you can see the international names that are used in the export markets that you may be familiar with. Feel free to check it out and also see some sub-primal cuts that can be extended out from an original primal for further tasty and delicious meals.
Watch how a whole lamb can be dismantled and portioned into ready cuts within a short time. Take note of the way Scott holds and changes his knife holds throughout his cutting and also note where he puts his free hand to avoid cutting himself during the process. 
The tools he uses are simple and can be bought quite easily and I have a list available HERE… should you decide to have a go yourself. You can save quite a lot of money buying your meat in bulk and if you do it with a friend you can share the cost as well making it a smart exercise.
Further links on other carcass breakdowns can be found on my other articles below: 
Enjoy the video…
Certainly makes it look easy but it does take a bit learning and skill to get it right. Practice makes perfect that's for sure.
Scott cut the ribs into chops but they could just as easily be turned into Lamb Racks just by removing the back flap and then fleecing out the ribs. The video below shows you how you can do this as well. Just creating another value cut from the basic primal.
You may see other videos where the whole back cap is removed and you will often get these types of racks in high class restaurants already cooked for you. I actually like to leave the fat cover on and score the same way that Viv does it in his video. I actually leave the whole bark on, once scored, seasoned and then cooked, the fat is beautifully crisped up and tastes so scrumptiously you wish you had more.
Watch Viv in the video as he explains the process.
Looks delicious…you can visit my Lamb Recipes page for some of my tasty delicious meal ideas and just have fun with eating meat.
John