Beef Meat Primal Cuts…
I will explain the beef primal cuts using a link to the Australian Beef Cuts Chart that shows the Handbook of Australian Meat (HAM) numbers for reference. The beef meat carcass diagram below is the same chart. I suggest to open the link below so that you get the bigger image for better viewing.
The diagrams are wonderful at showing how many sub-primal cuts we can get just from the one main piece of meat. By opening the chart link first, you can then revert back and forwards to each sub primal usage explanation.
You can also watch a professional Butcher how to break down a Beef Hindquarter and Beef Forequarter with these link. This is how I do it as well.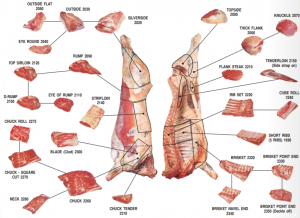 Butchers can turn one main primal cut into many types of meats for all different recipes and different cooking style.
You will be amazed…
I will use individual beef meat cut images and explain what cooking style you can use these cuts of meat for. I will use the Australian HAM number so you can follow. The HAM numbers are used by beef importers and exporters across the World for placing and taking orders. The numbers are an Australian Standardised tool for the Australian meat industry. Other countries have their own meat primal cut numbers for trade purposes.
---
Primal 2020 Silverside
Sub Primal Cuts
2030 Outside

2033 Outside Meat

2050 Outside Flat

2040 Eye Round
The Silverside is quite a tightly grained cut of meat. It can be very lean and I mainly use it by slicing thin and preparing into breaded schnitzels. The Eye Round 2040 is a perfect cut for slicing thin and using for Scallopini dishes with a wine, flour, gravy sauce. I have a BEEF EYE ROUND SCALLOPINI WITH WHITE WINE recipe in my beef recipe page. The Silverside is also used in brining as Corned Silverside or Roast beef and used as a cold cut meat for sandwiches sliced thin on a slicer in lunch bars and deli's.
In the USA, Silverside is part of the Round Primal Cut.
---
2. Primal 2081 Sirloin Butt
Sub Primal Cuts
2130 Bottom Sirloin

2090 Rump

2100 D-Rump

2110 Rostbiff/Eye of Rump

2091 Rump Cap

2131 Tri Tip
Sirloin Butt is a term never used in Australia but commonly known in USA. Rump 2090 is commonly used in restaurant around the World as a large steak. Tender and succulent. Rump Cap 2100 is a South American favourite know as Pichana and is widely used as a roast or cooked famously for Brazilian BBQ meals. The Tri Tip 2131 is cut that is sliced thin for Asian style cooking and great for Asian Hot Pots. All of the Rump 2090 when trimmed of fat can be used in Stir Fry cooking and also for Beef Stroganoff.
---
3. Primal 1552 Short Loin
Sub Primal Cuts
2142 Striploin

2142 Striploin Larder Trim
Short Loin 1552 is what we actually call T-Bone Steak when we cut and slice into portions on the bone.
Striploin 2142 is what the primal is called when the Short Loin is de-boned in the whole piece but when we slice into steak portions we then call it Sirloin Steaks. Sirloin steaks are generally regarded as the 3rd in line of the tenderest steaks from a beef carcass and is widely sold throughout the World in all Steak House Restaurants. Larder Trim just means the heavy fat coverage from one side is trimmed to certain specifications when ordered by restaurant customers from their suppliers. As well as Striploin being used for steaks, when left in a piece it is a great tender roast.
---
4. Primal 2300 Blade
Sub Primal Cuts
2302 Bolar Blade

2303 Oyster Blade

2304 Blade Undercut

2310 Chuck Tender
Blade 2300 is from the shoulder of a beef carcass. The meat is tender and best used in wet cooking style dishes like stews, casseroles and slow cooking ovens.  Many butchers use Blade as diced or cubed beef for these dishes. Oyster Blade 2303 has a tendon through the centre starting thick and then tapering to a thin tendon to the opposite end. When cooked slowly this tendon becomes soft like jelly but when fried or grilled as a steak the tendon becomes quite hard and chewy. The Bolar Blade 2302 is a very underrated cut of beef and is used often at restaurants for buffet lunches and dinners as carvery roasts. The pricing is very reasonable and if learnt how to prepare and cook properly you can get real value for your money. It is regarded as the rough diamond in the butchers meat play book. One of my favourites for sure.
---
5. Primal 2260 Chuck
Sub Primal Cuts
2270 Chuck-Square Cut

2275 Chuck Roll

2268 Chuck Eye Roll

2280 Neck
When butchers use the Chuck 2260 they mainly trim quite heavily and turn it into a Chuck Roll 2275. The Chuck Roll is then used as thick sliced steaks for slow roasting, (mainly in the USA) or cut into big chunky cubes for slow thick stews. The parts trimmed off with the Neck 2280 are either used for hamburger meat or trimmed further and used for minced meat. Chuck Eye Roll 2268 is used in Asian cooking by semi freezing and then slicing very thinly on a automatic slicer. The Chuck Eye Roll has a number of fat deposits within the meat structure and cooks very nicely in Hot Pots or quickly grilled on a Korean Style BBQ. A very flavoursome and tasty cut of beef.
---
6. Primal 2200 Thin Flank
Sub Primal Cuts
2203 Internal Flank Plate

2204 External Flank Plate

2205 Inside Skirt

2210 Flank Steak
Thin Flank 2200 is the actual belly part of the beef carcass. The Internal Flank Plate 2203, Inside Skirt 2205 and Flank Steak 2210 are all known in Australia as Skirt Steak. These cuts are mainly used as diced or cubed beef for stewing or beef mince. In the USA Flank Steak and Internal Flank Plate are widely cooked on the grill after marinating and then also sliced for Fajitas after cooked. The External Flank Plate 2204 can be a bit tougher and generally used for mince or hamburgers.
---
7. Primal 2000 Topside
2001 Topside Cap Off

2002 Topside Cap

2035 Inside Meat/Red Meat
The Topside 2000 is a very lean primal cut when trimmed of the fat on the top. The meat makes perfectly very lean beef mince but is also a very dry cut of meat. When the fat is left on a whole piece the meat can be used as a carvery roast for buffet lunches and dinners at restaurants or catering functions.
---
8. Primal 2060 Thick Flank
Sub Primal Cuts
2070 Knuckle

2067 M.Rectus Femoris

2068 M.Vastus Lateralis

2069 M.Vastus Intermedius
Thick Flank 2060 is the name hardly ever used in Australian butchering for this cut of meat. I think the name is retained for now because of tradition and for export orders. Knuckle 2070 is the most used name for this primal cut. The knuckle is highly sort for Asian markets as the meat is very lean with minimal trimming thus giving a great yield for purchasers. Sub primal cuts names for 2067, 2068 and 2069 are never used and generally just described as Beef Knuckle Heavily Trimmed. Because of its leanness the Knuckle is great in thin sliced Asian cooking and quick stir fry cooking styles. These are very common dishes all over Asia.
---
9. Primal 2150 Tenderloin Side Strap On
Primal Cut
2160 Tenderloin Side Strap Off

2170 Butt Tenderloin
The Tenderloin 2150, 2160, 2170 is the tenderest cut of beef. It is also know as Fillet Steak and Fillet Mignon Steak. Tenderloin is the most expensive cut of beef from the beef carcass and is one of the highly sourced primal cuts from restaurants and hotel restaurants. The steaks are normally cut very thick and cooked rare or medium rare. Tenderloin is also used to make Beef Wellington, which is Tenderloin pan seared, smothered with Pate and cooked Mushrooms and then wrapped in Puff Pastry. Then baked in the oven until the pastry is crispy and flaky.                        
---
10. Primal 2223 Rib Set
Sub Primal Cuts
2230 Spencer Roll

2240 Cube Roll

1601 Ribs Prepared (not on the carcass diagram)
Cube Roll 2240 is best known as Rib Eye Steak. It is number 2 after Tenderloin for being the tenderest cut of beef. Highly sort after by restaurants as a boneless primal or on the bone as Ribs Prepared 1601 which is also called Toma Hawk Steak. The presentation is a                                          show stopper when it arrives at your table.
---
11 Primal 1694 Short Ribs
Primal Cuts
1631 Chuck Short Ribs

1696 Chuck Rib meat
Short Ribs 1694, 1631 and 1696 are favourites in Asian countries. Koreans are famous for using ribs at Korean BBQ restaurants where the waiters and staff cook them at your table while you watch. Korean butchers are masters and have a few cutting and preparation techniques for beef ribs. Delicious taken right from the BBQ, dipped in Sesame Oils with just a dash of salt and pepper. The meat just peels off the bone and the taste is sensational. Another of my favourites.
---
12 Primal 2328 Brisket
Sub Primal Cuts
2340 Brisket Navel End

2330 Brisket Point End

2350 Brisket Point End-Deckle Off

2326 Brisket Pieces-Deckle
Brisket Point End 2330 is a cut used in an American National dish. In USA a Smoked Beef Brisket is one of the most cooked beef roasts. The time and care spent for preparing a Brisket is a tradition handed down from generation to generation. There are Brisket cooking competitions held all over America every year with people testing and perfecting their recipes to win. The process of Low and Slow cooking for a Brisket has elevated this relatively in-expensive cut of beef to new heights and well loved by many people around the World now. There are many rubs and seasoning's specifically invented for Briskets. I have a Garlic and Mustard Dry Rub and  Sweet and Spicy Dry Rub Recipe on my Marinades, Seasoning's And Rub's page. Search for other recipes there as well.
---
13 Primal 1683 Shin Shank/Hind Quarter 1682 Shin/Shank Fore Quarter
Sub Primal Cuts
2360 Hind Shank Meat

2360 Fore Shin Meat

2365 Shin-Special Trim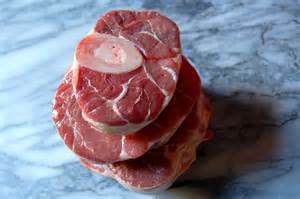 When Shanks 2360 are cut on the bone cross ways the cut is called Osso Buco which in Italian These are the main Beef Primal Cuts that are used when you visit butchers or supermarkets. The butchers in each country may have different names, cutting style and techniques and are able to prepare many exotic cuts for different cooking styles that their customers request.
---
I hope the information provided can help you to find a cut for your cooking needs and feel free to leave a comment if you have any questions.