Beef Schnitzel Recipe By A Butcher…
Another one of my favourite meals with meat (I think I say this a lot) is the humble Crumbed Beef Schnitzel. My mum is an expert at making these and whenever we go over to my parents house for dinner, she always makes schnitzel or cotolette as they are called in Italian. (mum and dad were born in Italy in case you never knew). She knows these are a favourite of mine and, hey, everyone loves a crumbed schnitzel anyway. They are a great way to get children to eat meat as kids love the taste and crunch when they bite into them.
Today I am going to show you how to make tasty beef schnitzel with a bit of a twist. I am a big fan of McCormick's seasonings and in particularly McCormick's Grill Mates Easy to Prepare Marinade Seasonings. They are so easy to use as they are, but as a butcher, I like to add them to some other ingredients to give a unique twist and flavour to my meals. Through my experience I have been able to add a dash of this and tablespoon of that and turned otherwise boring same old items into tasty, delicious gourmet specialities.
Here's my Beef Schnitzel Recipe with a Twist…
14 Thin beef steaks (medium size, a little bigger than the palm of you hand) I have used thin steaks from the eye of a rump. (you can ask your butcher to cut these for you)

500 g Bread crumbs (a little extra won't hurt as it will be easier to coat the steaks) I prefer thin ground bread crumbs but any will do.

2 tsp McCormick Grill Mates Korean BBQ Marinade Mix.

2 tsp Fresh Minced Garlic. (you can use powdered garlic but reduce to 1/2 tsp)

2 Tbsp Fresh Chopped Parsley (you can use dry parsley but I prefer fresh)

2 Eggs beaten with a pinch of salt

1 Small bowl for eggs and 1 medium-sized plastic container for crumbing

Frying pan, tongs and cooking oil

1 Large flat plate and 1 small bowl

Paper Towels for soaking up excess oil after cooked.
Preparation…
Into the bread crumbs, add Korean Bbq seasoning, garlic and parsley.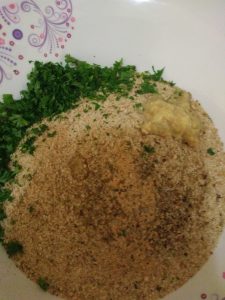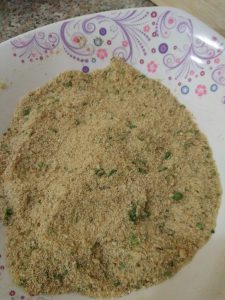 Mix well ensuring that the wet garlic is spread throughout the mixture. 
Into a bowl add the eggs with a pinch of salt and beat with a fork until suitable for dipping.
Dip steaks one by one into egg mixture and allow excess egg to drip off back into egg bowl before placing onto bread crumbs. Just hold the steaks above the bowl for a few seconds after dipping.
Push bread crumbs on top of steaks so to coat the steak. Press bread crumbs firmly onto steaks so that the bread crumbs remain sticking to the meat. Turn over and repeat the crumbing and pressing.
Place the crumbed steak aside and continue this process until all steaks are crumbed.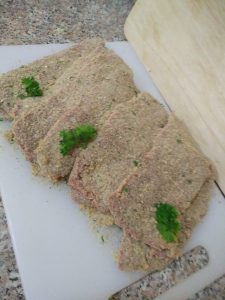 Next step cooking…
Prepare a large flat plate with a smaller plate/bowl turned upside and placed into the larger plate. Place 2 paper towels on top of upside down plate. The paper towels will help absorb excess cooking oil from the cooked schnitzels.
Add enough oil to cover the base of frying pan. Heat oil and make sure the oil is HOT. The reason why we want the oil  really hot, is that when the oil is hot it will stop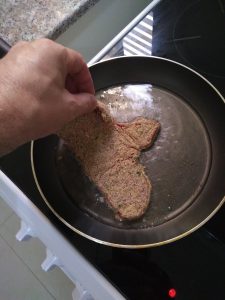 the crumbs from absorbing a lot of oil.
When the oil is hot add the crumbed steaks carefully by placing them and moving the steaks away from you. This will ensure that no oil spits up towards you as it sizzles.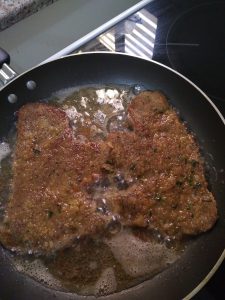 Pan fry for 1 to 3 minutes each side or until golden brown. You may need to turn the steaks a few times as it depends on how thick your steaks are. We like to get a nice brown so that when you bite into them we get a crunch.
Remove the schnitzels and place onto the paper towels prepared on the two plates. You will see the towels soaking up any excess cooking oil. As we add the cooked schnitzels we can adjust their places so that the newly removed schnitzels touch the paper towels for the absorption affect. 
Continue cooking until finished. You may need to add extra oil after cooking so many steaks. I cooked 6 schnitzels before I had to add more oil to the frying pan as the oil was absorbed by the schnitzels during cooking. Each time you add oil, just make sure you allow it to heat up and get hot again before adding the crumbed steaks for cooking.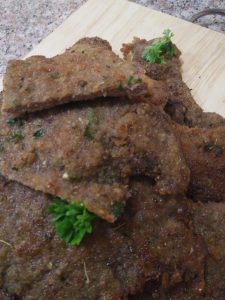 That's about it…
You have cooked your Tasty Beef Schnitzels with a little McCormick Korean BBQ marinade magic. A twist to liven up an already favourite item and ready to enjoy how you like. They are great served with a nice crisp salad  and a wedge of lemon or simply made into a Gourmet Schnitzel sandwich.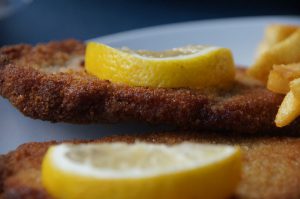 Let your children take them to school for lunch or even take them for your work lunch. Schnitzels are just as delicious cold as they are for an evening dinners meal. Anyway you decide to have them, I am sure you will enjoy.
Soon I will show you how to turn them into a Beef Parmigiana. Another meat favourite of mine (there's that phrase again)
Please enjoy and just another little tip…you can freeze the un-cooked crumbed schnitzel and save for another day but when you defrost them to be used, it is better to re-crumb them to get them nice and crispy when you cook them. They will just be a little thicker and may taste even better as the marinade seasoning and garlic infuse the steaks even more. Also, if you have extra bread crumbs left over, just pop them into a container or zip-lock bag and keep it in the fridge for next time or something else. (I have other ideas and uses for these leftover things, don't you worry about that).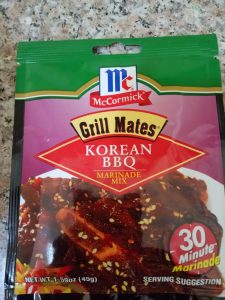 I hope you will enjoy trying my McCormick Grill Mates Beef Schnitzel Twist and there really are no rules for these types of recipes, just experiment and enjoy your meat eating experiences. That's what I hope to pass on to you.
See more of my recipes HERE…
Please share and feel free to leave me a comment below. Even add your on recipes.
Thanks…John