Top Tips for Picking Your Christmas Ham Plus a Few Handy Hints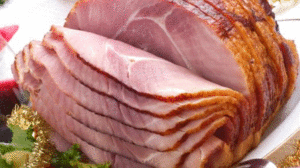 The best way to find a good ham is to start with a good butcher.  some tips on what makes a good ham. Chances are, that if takes care of your meat selections, he'll take care of your ham too!
Most of us already know that master butchers live and breath Excellence in their trade. They take pride in the craftsmanship of their profession and when it comes to art of Ham production their knowledge is second to none.
Below are a few tips to help you make your selection with a little more insight that these masters aim for when wanting to deliver a top quality product for their customers.
What to look for and taste in a great Christmas Ham…
When you're tasting (and most Gourmet butchers will let you try before you buy) you're looking for a balanced cure, a naturally meaty texture (too wet or rubbery is a red flag) and a good smoky flavour. If you have to chose without having a taste of the ham, look for smooth even skin and an even colouring. If the knuckle is sunken or the meat pulled off the bone end, chances are that the ham is over-cooked and could end up dry and not moist.
A buckled or uneven rind is another sigh of dryness and if there's a cut ham on display, look for smooth well-bound meat with no bubbles or grey coloured meat muscle ( a sign or not properly cured and soaked for long enough). Grey coloured will just be liking having a boiled piece of met with no ham salty flavour
Size and age does matter too. Older pigs can make for tougher eating and younger pigs can be less flavoursome, but not always the case is the curing is done just right. We would sell hams within a range around 7 kg -12 kg, cutting the rump end off to bring the size down to 5 kg for smaller orders. But these sized legs would come off just the right aged porker for a premium quality ham.
The key to an outstanding ham, is balance. The flavour must be very well blended. You should not be able to tell the dominant flavour and the texture shouldn't give an over-massaged or over-processed feel in the mouth like a processed sandwich ham. The sliced ham should be like biting a succulent steak but with the ham flavourings.
The overall message for your take home ham!
Find a good butcher and don't be afraid to speak to him and find out how about his hams. Ask question like, does he make his own, if not, where does it come from, what sex of animal is the cut from (female is best), and even what kind of wood was used to smoke it.
These few tips for picking your Christmas Ham will ensure that you get the utmost delicious flavoursome ham to have on the festive meal with family and friends. Below I have added a few handy hints for carving and storing your extra ham for the next few days ahead.
How To Carve A Whole Leg Ham…
You can watch Mitch in the video or follow the instructions further down.
Step 1: Place ham skin side up on a cutting board. Then run a small sharp knife under the rind around the meat side end opposite to the hock. Run the knife tip along each side of the ham to about the base of the hock. Carefully hold the rind at the tip and peel back the rind slowly using your other fingers to free the rind as you peel. You should feel it tear away neatly and evenly and don't throw the rind away just yet.
Step 2: Next run the tip of your knife around the hip bone (called the Aitch bone) being careful not to go too deep and into the muscle. Begin slicing on a slight angle down towards and touching the bone.
Step 3: The slices should fall off quite easily but it you have a few slices stuck to the bone just run your knife length-ways along the bone to free them. You can run your blade from the last slice made up the bone and continue to slice towards the hock.
Step 4: Slice your way around the ham until you reach about a third of the way up then remove the bone by making a few short cuts in and around the joint.
Step 5: To keep your ham fresh, fold the saved rind back over the exposed meat, put it into a prepared ham bag (details below) or pillowcase, or wrap it in a tea towel and store it in the fridge.
Storing Your Leftover Ham…
Soak a ham bag, pillowcase or tea towel in two cups of water and one tablespoons of vinegar.

Wring out excess water and put your ham in the bag or pillowcase, or wrap it in a tea towel. Store it in the coolest part of the fridge – ideally below 4C.

Every three days or so when the bag starts to dry out, rinse the bag or tea towel and dip it in a new water and vinegar solution.
I hope you find these tips and hints helpful and if you would like to go that little step further, then see my article on recipes for glazing and baking a ham for an extra special tasty Christmas Ham delight.
Enjoy
John