Korean Style Chicken Stir Fry Recipe – One of My Favourite Marinades
One of my most favourite marinades is the Korean Bulgogi. It is such aromatic and it leaves the air in the kitchen smelling fantastic. Bulgogi literally means "fire meat" as the meat is either grilled, Bbq or cooked on a stove top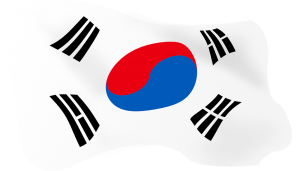 griddle. These methods give a beautiful browned texture while stir frying stays a bit wetter but still tastes great. It works well for many meat cuts and meat types and I'll get to some of them at the end.
The recipe was given to me by a lovely young Korean lady when I was in Shanghai and I used it for a couple of products that I launched through Kate and Kimi Grocery Online store when I worked there part-time. I will add the recipe I use normally from scratch a little further down but I had to cheated a bit this time when as I was unable to find the Sesame Oil I needed, in the store that I went to here in Doha. (Still finding my feet to find the right place to shop.)
I used the McCormicks Grill Mates Korean BBQ ready seasoning mix but added minced garlic, chopped onion and soy sauce. I just followed the instructions on the packet and added my extra ingredients.
Right this is how I made it…
I used 3 good sized Chicken breasts, trimmed and sliced them in half by pressing my hand on top of the breast and then with a sharp knife sliced it through.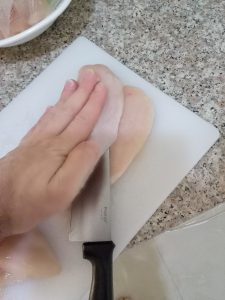 Cut the breast steaks into strips. (by cutting the breasts into steaks first, you get nice thinly sliced strips)
After the breasts have been cut into strips, add to the mixed marinade and use your hands to mix. Make sure you turn the chicken over a number of times so that all the strips are well coated.
Cover with plastic wrap and let marinade in the fridge. McCormick's recommends minimum 30 minutes, but the longer you can leave them the better intense flavour you will get.
When you're ready to cook, add a little oil in a frying pan and get it HOT. We want to hear the sizzle when we first add the chicken.
Now, whenever you stir-fry any meat, always add the meat to the frying pan in small batches and then remove each small batch when nearly cooked. When all the small batches are cooked, add them all back into the pan together and keep cooking until they are fully cooked and browned as much as possible. Doing it this way will keep the meat tender and stop the meat from stewing in the pan. Stewing will happen when you add too much in meat into a pan. It's a good sign that you've overloaded the pan. With this recipe it's a bit difficult to avoid as the marinade is a wet one and you will always have some liquid in the pan. I do like these juices though as I like to pour them over the finished meal.
When the meat is cooked, add over rice or noodles and toss through. I served it up with 2 minute noodles as that was all I had in the cupboard at the time. Still worked  treat.
You can sprinkle a little fresh chopped parsley or herbs for colour if you like or even add some cooked veggies like carrots and peas. Either way you while still get the sensational flavours of the marinade through the chicken. An easy simple meal.
Here is the recipe I used above if you want to try it…
Chicken Breast cut into strips     750g

McCormick Korean Bbq pack…..just follow the instructions on the pack

Onion chopped medium               half of a medium onion

Garlic minced                                 1 level teaspoon

Soy sauce                                         2 tablespoons
Mix all ingredients together and then add the chicken strips.
If you want to make the marinade from scratch here it is…
Bulgogi Marinade Recipe…
Soy Sauce                                  140g         8-9 Tblsp

White Sugar                               60g         1/2 Cup

Onion Chopped medium         80g        1/2 Cup

Garlic minced                             70g        3/4-1/2 Cup (I like garlic a lot)

Sesame Seeds                             30g        2 Tblsp

Sesame Oil                                  40g        2 1/2 Tblsp

Black Pepper                                 5g        to taste

Chicken Strips                             1kg
It may seem a lot of marinade for 1 kg of meat but the ingredient flavours really penetrate the meats and this is what we want. You will know what I mean about the aroma when you make it. Fantastic.
The marinade can used for all types of meat, beef, pork and chicken. I have not tried it with lamb but when I do I will let you know and post the results.
Beef…
Korean Style Ribs…you may have seen these if you ventured into a Korean Style Bbq Restaurant. So tasty.
Beef Steaks…Sirloin, Rib Eye and Tenderloin. The longer you marinate these, the better. The Koreans normally cut their steaks into medium thickness square sizes marinate and then let them sizzle on a griddle on the table in front of everyone. They then pick them up, add to a slither of fresh garlic and wrap it in a lettuce leaf. Crunchy lettuce and tender mini steaks. Hmm delicious.
Beef Strips for stir fry of course.
Pork…
Pork Spare Rib whole slab… marinated overnight and then either cooked on the Bbq grill or slow roasted in an oven. The lower and longer the better as when done the ribs will pull off the meat. So tender.
Pork Spare Ribs sliced individually…marinated overnight and then Bbq grill until they become well cooked and crispy. Eat them with your hands and make a mess.
Pork Chops or Pork Loin Steaks…just like the beef steaks.
Pork Strips for stir fry
Chicken…
Chicken Wings…marinated over night as you want the flavours to penetrate to the bone. I roast these in m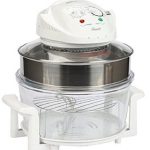 y Turbo Oven for about 30-40 minutes. We like to have wings for a Sunday evening meal with many different marinades and rubs that I make and try out. I can eat my fair share.
Chicken Whole Leg and Thigh – semi boneless…make sure you really score the skin well when you prepare. The legs are thicker and it will take some time for the marinade to penetrate. I take the drumstick bone out of the leg but leave the thigh-bone in. When I worked in the butcher shop, these displayed beautifully and fitted nicely in the display tray we were using. Appealing to the customer's eye and something different. It's a little trick and I'll show you how you can do this at home in a future post. It's not that difficult. I roast these in my Turbo Oven as well.
Chicken Breast Strips…as above and also used for the filling of wraps with fresh salad and cheese. You can do the same with beef and pork.
Experiment and try other meats yourself. I think it might work well for grilling veggies like zucchini or squash either marinated or just basting as cooking.
If you are looking for more recipes, marinades and rubs see My Recipes page here.
I hope I may have inspired you to try something different. A Korean cuisine to love. I am very sure that once you try a Bulgogi marinade you will get hooked with the sensational taste and aromatic smell that it gives out. It's the sesame oil and garlic that gets you in.
If you've enjoyed my post, please leave a comment and share it to your friends. They might like to try it out. Let me know your experiences with a recipe of yours.
Thanks…John