Beef Pepper Steak And Tomato Stew Easy Recipe
A beef stew recipe which is easy to make with easy to get everyday ingredients. Add a bit of pepper steak seasoning, McCormick's of course, and you will make a hearty dish with a bit of pang to the taste. If you make a big pot, you can freeze the extra and have a good meal ready when you don't have the time.
Ingredients, tools and steps below…
700g Diced beef blade or rump

2 Carrots peeled and cut into rounds, about as thick as the width of your thumb

3 large Potatoes diced medium, a bit bigger than the carrots

1 large Onion diced medium

2 tsp Fresh Mince Garlic

1 tsp Fresh Mince Ginger

1 Tbsp Fresh Coriander Leaves chopped roughly

1 Tbsp Fresh Parsley chopped roughly ( if you don't have these 2 fresh herb ingredients you can use 1 tsp of dried Italian Herbs)

1 1/2 Tbsp Corn Flour for thickening the marinade

1 Tin of Chopped Tomatoes (plain or flavoured will be fine)

Water or you can substitute with Beef Stock for a richer taste

large Pot with a lid

Cooking Oil for browning the meat
Preparation…
Prepare the marinade by firstly adding McCormick's seasoning into a bowl as instructions on the packet. Mix well and then add the diced beef making sure to coat the diced pieces. It may seem a little watery but we will fix this after the meat has marinated. Leave to marinade for at least 30 minutes.
After the marinating time, add the corn flour and mix well. Using your hands is the best way as you can ensure that the corn flour gets dissolved and disperses throughout the meat. Let stand aside and prepare for cooking.

Cooking…
In the big pot, add enough oil just to cover the base. Heat the oil and then add the garlic, ginger and onions. Cook until the onion is translucent, maybe 2 to 3 minutes. It may depend on how big you cut the onion pieces. 
Add diced beef and stir steadily so the meat starts to brown on all sides..
After the meat has browned to you satisfaction, add all the other ingredients, carrot, potato, tin of tomatoes, coriander and parsley. Stir and mix through and then add enough water so that all is covered. Using the empty tomato tin as a measuring cup is what I do and also cleans it out nicely to get any bits of tomato that may have been stuck in the tin. I used about 1 1/4 tins of water.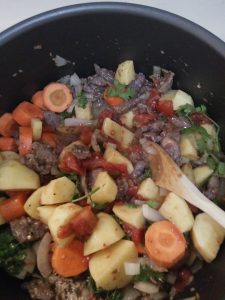 Stir a few times, put the lid on and turn the heat down and let simmer. It should take about 1 to 1 1/2 hours to cook nicely and just keep stirring occasionally to stop any sticking to the pot bottom.
When the stew is nearly done, check to see how watery it is. If you think you would like it a bit thicker, then add more cornflour but only start with a small amount and mix it through firstly. Say, a teaspoon to start with and then you can adjust from there by adding more if you need to.
Right, all done…
Serving suggestions…
So this is a Beef Pepper Steak Stew with Tomatoes, and you know the best way to have a hearty stew is either, with mashed potatoes or with spiral pasta. I know, I know there are already potato pieces in the stew itself, but how can anyone pass up on mashed potatoes. I love it with all wet cooking methods. All the juices get soaked up and is just delicious.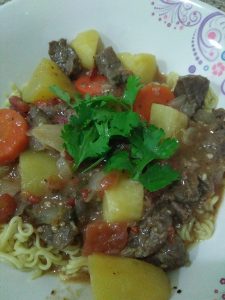 This time though, I used all my potatoes so I ended up just pouring my stew over some freshly cooked noodles. Not quite as good as mashed potato but still did the trick. A little bit of garnish with fresh Coriander and Parsley and I was happy. 
This is great served with a drop of Red Wine…something with a little spice to compliment the Pepper Steak seasoning taste. A little pang, but only just a bit. 
I hope you enjoy and please share the recipe with your friends or invite them over for a great hearty stew dinner.
Ciao John