Cajun Chicken Breast Steak – With A Twist
My wife loves to use Cajun seasoning in her cooking and the one that we use doesn't actually have that spicy bite to it. I have prepared a Cajun chicken breast steak recipe with a bit of twist, and I'm sure you are going to love my idea of how you can serve it up as an appetiser.
Again, I use my McCormick Grill Mates Marinade as a seasoning base, as you all know by now that I am a big fan of their seasonings. Right, so here we go…
Ingredients you will need…
2 Chicken Breasts approximately 500 g to 700 g

McCormick Cajun Seasoning Marinade Mix

4 to 6 Cherry Tomatoes cut into quarters

1 Tbsp Fresh Parsley chopped

1 tsp Minced Garlic

 1/2 Medium Onion chopped medium

Cooking Oil

Water for mixing marinade

Frying Pan

Sharp Knife
Preparation…
Slice breasts in half by pressing one hand on top of the breast and then with a sharp knife sliced it through.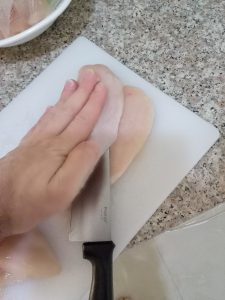 Combine all fresh ingredients, tomatoes, parsley, garlic and onion into the Cajun seasoning mix and add the water and oil as per McCormick marinade instructions. Mix well.
Add chicken breast steaks and marinade for at least 30 minutes. Overnight is best.
Cooking…
Heat a little oil in the frying pan and get it hot. Just enough to cover the base of the pan with a thin sheet of oil.
Add the chicken and cook for about 1 to 2 minutes each side. It may take a little longer as it will depend on the thickness of the steaks. Add the marinade mixture into the pan after that and allow to simmer so the onion and tomatoes soften. The aroma will be fantastic.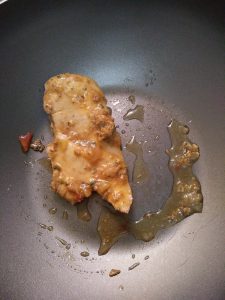 That's it, all done…
Serving Suggestions…
There are many ways that these Cajun Breast Steaks can be served but here are a few ideas that I have used.
Place onto a plate and pour the marinade juice over the steaks. Serve with a crisp salad or cooked cauliflower, broccoli or different coloured chopped zucchini. Also great with mashed potatoes.
After cooked, slice the breasts into strips and toss through a salad and serve as a Warm Chicken Salad. Just a dash of the marinade juice makes a great dressing.
After cooked, slice the breast steaks into strips and use as a filling in a wrap or simply leave as a steak and make a Chicken Breast sandwich with sliced cucumbers or sliced gherkins with a little mustard.
Now here's my appetiser that I've made a few times when we've had guests over. 
Cut a few cherry tomatoes in half, set aside. Cube some cheese of choice. I like to use cheddar but if you use vintage or aged cheese it could crumble and break. We don't want this. Although any cheese will do. Cut the breast steaks into pieces about the size of the cherry tomato halves.
Now with a tooth pick, add the cherry tomato half first, then the chicken piece and then the cheese on the bottom. The cheese will act as a stopper so nothing should fall off. 
They might not stand up and I think they look better on a plate lying down as you get the colour contrast from each ingredient. They are delicious as each ingredient brings a unique taste sensation with the firmness of the cheese to the explosion of the tomato when you put them in your mouth. Just brilliant.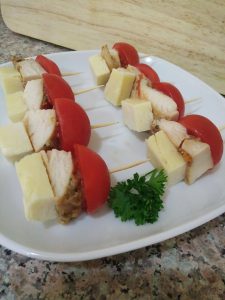 I'm sure you will find other ideas to mix and match as an appetiser. Don't be afraid to try different combinations.
Anyway, I hope you will enjoy them whatever you decide.
Thanks for stopping by and don't forget to share the recipe with your friends.
John