The Kitchener Heavy Duty Meat Grinder.
For those that want to get their hands into making meat products at home, using quality ingredients is a must, but what about the machinery and tools? Quality ingredients and knowledge are one thing but also using great machinery and tools will just make the experience and job that whole lot easier and satisfying. For ease of grinding or mincing meat for burgers, sausages or meat loaf, there is a standout, quality yet affordable machine, currently $149.99… called The Kitchener Meat Grinder.
Firstly, we should note that this electric meat grinder has been designed with metal driven gears that will last for many working hours. It comes with stainless steel meat cutting knives for a long service life as well and its gear mechanism gives it power for its grinding ability. The motor has 500 watts, and this makes it able to grind about 330 lbs hourly. This electric meat grinder was built to surely not fail you.
Another winning benefit is that the huge meat pan can be easily removed for clean up after use and easy maintenance. It has a waterproof switch that ensures users safety, and it does not rust as it is rust-proof.
The grinder comes with a set of stuffing tubes for sausage making as well that range from 3/8", 1/2", ¾" and 1-1/8". It has reverse functionality that is a must when making sausages. It also comes with a meat stomper for the storage of accessories.
When it comes down to warranty, the meat grinder is accompanied by a one-year finite guarantee.
Performance Of The Grinder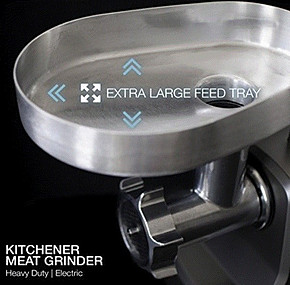 The Kitchener electric meat grinder is rated as a highly strong meat grinding machine from the many satisfied purchasers. This device is also suitable for small commercial use as well as home. The steel gears and metal gear driven mechanism means that it is durable and intended for getting through the work load with ease. The pan and feeder hole are large enough for bigger chunks of meat to speed up the grinding process and get through the task quickly.
The electric grinder boasts a powerful 2/3HP 500w motor, and this makes it great for not just processing meat but also for making of sausages a breeze. It is an ideal tool for all grinding works, not only meat.
Features Of The Meat Grinder
Some of its features include;
Powerful

Stainless steel construction for main metal parts

Switch safety with waterproofing

It comes with a circuit breaker for the purpose of added safety

Large meat pan for holding more meat for quick grinding

Wider throat allows for larger chunks of meat
Advantages Of The Meat Grinder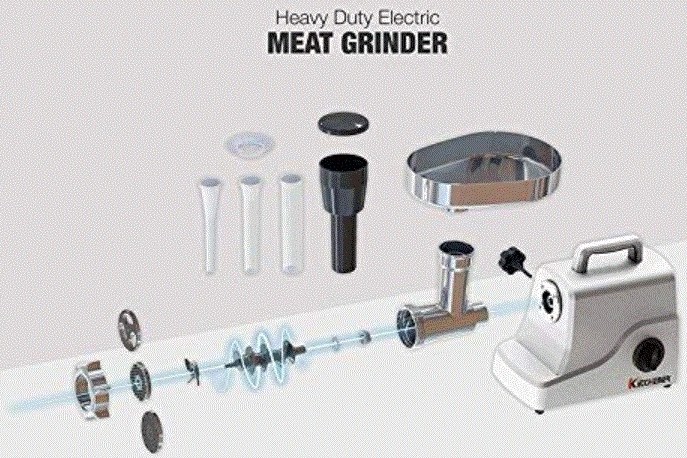 Some pros attached to the meat grinder includes;
• Can be used in processing sausage
• Easy to clean thanks to the pan that is removable
• Rust-proofing for longer life
• Grinds meat seamlessly
Disadvantages Of The Meat Grinder
Some of its cons include;
• Can be loud when in use
To Wrap It Up
This electric meat grinder is ideal to be utilised in not only homes but in small restaurants. It is the perfect fit for those who need a durable yet highly affordable commercial standard meat grinder.
A strong heavy-duty grinder which functions highly and has a high quality build. Even more, you do not need to worry about changing the Kitchener heavy-duty electric meat grinder anytime soon as it will last for a very long duration of time.
With rave reviews from satisfied purchasers from Amazon, the Kitchener Heavy Duty Electric Meat Grinder would be a welcome addition to anyone that wants to make their own special meat products at home.
I highly recommend it and for even further details, visit Amazon.
Regards John.