Water Buffalo Meat – Another Healthy Protein
There are four major uses for Water Buffalo worldwide: meat, milk, other by-products such as hides and horns, and as draught animals in certain countries. I will be focusing on the meat side and briefly explain the health benefits that this animal brings to the table as  a meat protein source.
Being a very lean meat, in the nutrition industry, Water Buffalo meat  is known for its nutritional qualities. It has been discovered, according to a study performed by the Food Technology Institute of the INTA Castelar, for having higher levels of Omega 3, a fatty acid that is commonly found in marine and plant oils which is a polyunsaturated fat that is known to lower triglycerides in our bodies. Because of its nutritional qualities many health conscious consumers are looking for foods where fat and cholesterol can be be avoided or reduced.
According to the Australian Buffalo Industry Council Inc report.Water Buffalo meat has:
significantly lower fat content in its lean meat muscle,

it is less prone to marbling (white flecks of fat within the meat muscle) and

has approximately 43% less cholesterol than beef.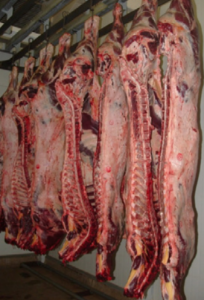 Further studies prepared by the European Journal of Clinical Nutrition in September 2010 came to the conclusion that the consumption of top quality Water Buffalo meat seems to be associated with several beneficial effects on cardiovascular risk profile. With Water Buffalo meat having less fat and richer in proteins, extensive research shows that consuming Water Buffalo meat frequently showed a significant decrease in total cholesterol and triglycerides level, lower pulse wave velocity, as well as a more blunted response to oxidative stress in comparison with consumers that never ate Water Buffalo meat. Findings suggest that water buffalo meat could be recommended as a safer and healthier alternative to beef meat, whereas continuing to provide a substantial proportion of the recommended daily allowance of protein.
Water Buffalo meat has about the same protein amounts as chicken, 45% more iron, 61% less saturated fat and 33% less cholesterol when compared to other protein sources.
The table below gives a nutritional analysis of top quality Water Buffalo compared with other protein sources.
(To see better, right click on the image and open in a new tab)

What about the taste and how should we cook it?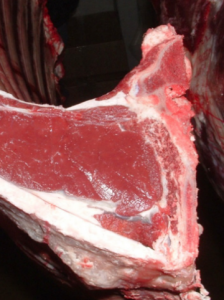 The taste of the Water Buffalo meat is very similar to beef but it can also have a gamier taste. The fat is white in colour with the meat having quite a dark red appearance because of more pigmentation and less intramuscular fat or marbling. As the meat is very lean the ideal cooking process for top quality steaks and roasts should be rare to medium rare to lock in the small amount of juices. Over cooking will risk the meat becoming dry and tough.
For steaks , as soon as the reddish bubbles of moisture appear on the upper cooked surface, they are best removed from the grill, pan or heat source. You can use a meat thermometer probe to monitor the cooking as well and you can also check out my articles on Cooking Helpful Tips & Hints and also my OK Method to Cook a Perfect Steak for great results. Both steaks and roasts will hold its moisture better with the benefit or a liquid marinade. Try to avoid over using salt based seasonings as these will tend to further draw the moisture out of the meats. If you wish to season your meat it is best to add the seasonings after the steaks or roast have been seared or sealed to lock the juices in first. As always for roasts, I prefer the low and slow method to get the meat tender and shred apart easily. Wet cooking methods, like in a slow cooker, for the lessor cuts will always work out great as the moisture is locked in the sealed pots or appliances.
See below a chart of meat cooking methods for each primal cut for top quality Water Buffalo of a carcass weight range between 150 to 300 kg of a young animal.
I've added a couple simple tasty recipes for your taste experience with Water Buffalo meat.
Water Buffalo Stroganoff
Serves 4.
800 g Water Buffalo Rump

150 g plain flour

50 ml cooking oil

100 g onion chopped large

4 peppercorns (optional)

1 dried bay leaf

100 g pickled gherkins chopped

200 g button mushrooms sliced

200 ml sour cream

250 ml beef stock liquid or water

10 g chopped fresh parsley

salt and pepper to taste

Stove top pot
Method.
Trim meat of fat and sinew and cut into strips approximately 2.5 cm by 1 cm and dust with half of the flour.

Heat oil in the stove pot and add Buffalo strips and cook until golden brown.

Add onions and stir fry for about 5 minutes.

Add the stock, peppercorns, bay leaf, gherkins and mushrooms and bring to boil and then simmer for about 1 hour or until tender.

Blend 150 g of sour cream with the rest of the flour and add to the pot stirring constantly to avoid getting lumpy.

Simmer for another 10 mins and adjust seasoning with salt and pepper to your required taste.

Transfer Stroganoff to a serving dish and garnish with remaining sour cream and sprinkle with the fresh chopped parsley.
Great served with mashed potatoes or spiral pasta.
Marinated Water Buffalo Fillets
Serves 4.
1 kg Water Buffalo fillet trimmed and cut into 80-100 g pieces

100 g peanut butter

100 ml light soy sauce

flour for coating

oil for cooking

frying pan
Method
Mix light soy sauce and peanut butter into a paste and pour over cut meat. 

Mix thoroughly and let meat marinade. Over night is best.

Coat meat on all sides with flour just before cooking

Heat oil in fry pan and get it hot.

Shallow fry so that the meat gains a crisp finish and cook to your liking. It should take 2 to 4 minutes and you may need to add more oil for each cooking batch. Just allow the oil to re-heat in between batches.
Great served with rice or a crisp green salad.
We all know meat is a great source of proteins and irons that we need regularly and with the benefits of lower bad fats Water Buffalo finds a great place to have in our diet.
I hope you have found my article helpful and interesting and feel free to leave a comment if you have experienced the great taste of Water Buffalo or perhaps my article has opened your eyes to another great healthy protein source to add to the dinner table.
John