Sous Vide Cooking 
If you're not familiar with sous vide, it's a cooking method that suspends a plastic bag with sealed ingredients into a water bath that's held at a precise temperature. This great appliance called, The Anova Precision Cooker heats the water to your set temperature and then circulates the water for an even cooking process. The food gradually gets brought up to the exact desired temperature, and eliminates the risk of overcooking.
Sous vide has been a long time cooking method by professional chefs and high-end restaurants, using full-sized water bath units that typically cost hundreds and hundreds of dollars, at the very least. That's why foodies have been excited over products like the Anova, which finally bring sous vide cooking to you at home in your own kitchen.
Sous Vide is certainly not new, but to be able to do it at home is like a new generational slow cooking without so much mess that gives a consistent finished product every time.
So how do we get started…
Grab a deep pot or better still, I suggest buy yourself an EVERIE Sous Vide Container designed for the Anova Precision Cooker. (you can get it at then same time when you purchase the Anova Precision Cooker from Amazon). Fill it with water to the directed instructions for the recipe.
On an even surface place a wooden chopping board or a folded tea towel to avoid any possible damage to a heat sensitive bench top. You will obviously need to be near an outlet to plug the unit in. Place the filled pot/container onto the board or towel.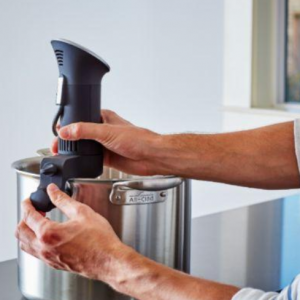 Attach the Precision Cooker to a pot/container with the adjustable clamp. Set the time and temperature on the Precision Cooker's simple interface or download the Anova app and input the setting there.
Season your raw food item with salt, pepper or what ever seasoning/marinade you prefer. You can add a little olive oil and fresh herbs as well if you like.
Place food into a resealable bag, like a zip lock bag, and when the water is at the right set temperature gently place the bag into the water and let the air escape as lowering. Seal the bag, being careful as to not let water get in and then clip the bag of food to the side of the pot/container. It's OK if there is a little air in the bag, it is not a problem. The Precision Cooker will cook your food to your perfect level of done-ness. 
When the cooking is done, if you like, you can finish the item off by cooking and searing the item by throwing it on the grill, or by broiling it. Mainly for a nice crisp outer layer for a steak. 
Cleaning up… 
So easy to clean and maintain as the Precision Cooker only gets submerged into water, it never has direct contact with food. This eliminates any build up of seasonings or juices from the foods.
When it's time for a clean, the stainless steel skirt is easily removed. It just twists off. You can throw the stainless steel skirt and the plastic pump cap, right into the dishwasher or a sink of water and wipe as you would any dish or plastic item. 
When the circulator needs cleaning, just apply a little dish soap with a soft small brush or tooth brush and some gently scrubbing will clean it up nice and new, and then rinse. Ensure that it's cooled off before you touch it, and remember, keep the top part of the circulator from getting wet. We want to avoid the sensitive electrical tech parts inside from getting damaged and not void your warranty. Cleaning the circulator every so often is a good idea to prevent any build up of scale and keep the Anova Precision Cooker working at optimum capacity.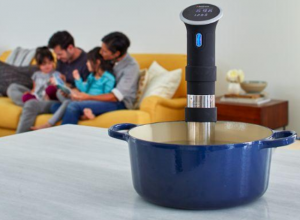 Now sit back and relax…
Sit back and let the Precision Cooker do its thing and cook your food to the right ready done-ness. The app will let you know when everything is ready, avoiding any over cooked issues just because you are concentrating on having fun with the family. No need to worry anymore…
My final thoughts on the Anova

Precision

 Cooker…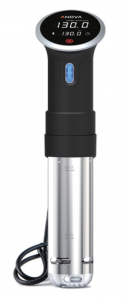 With this sous vide appliance, you can make some amazing great-tasting food. Not only for steaks and meats but also use it for poached eggs, salmon and even vegetables. Easy to use cooker that clamps easily to any pot, easy to use functionality, easy to clean, easy to store away…what more can I say.
Control the cooking directly for the cooker or use the app for convenience away from the kitchen. Also use the app for many fine recipes ideas or find a Sous Vide recipe book on Amazon when you decide to buy.
A winner in my book for sure…
I hope you enjoyed my article and found a new addition to your kitchen to make life easier with the Anova Precision Cooker…
Here's a video with some extra helpful tips…
Let me know your thoughts in the comments below and enjoy your meat cooking…
John