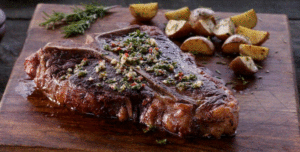 Snake River Farmers and Double R Ranch are a family owned and run business that produce the highest quality beef and pork in the US. Their business has been in operation for many years and were founded in 1968. SRF control all aspect of the business and can boast the fact that they can deliver your selections from Paddock to Plate delivering right to your door step.
The team at SRF regularlly put together great promotions on a weekly or bi-weekly basis so make sure you visit frequently to get those great bargins. I have added a fine video on how to cook that perfect steak by Hugh Acheson, using SRF quality steak. 
Below the video are other first class meat selections that I know will give any meat lover a satisfying experience. Click freely to be taken to Snake River Farms website for finalising your order. Enjoy.
Now for these great promotion…
Make sure you use the Code to get your discount…